Karl Vanoquerque and José de Kauer did not get bored for a second during the BC event, which was nonetheless advertised as a boring race on a flat track. Sporza reviewers also give their opinion of Tim Merlier's move to Quick Step-Alpha Vinyl.
"Every team race is preceded by a story," opened Carl Faneuwkerke debriefing from British Columbia. "But today that was a complete book."
Jose de Coeur: "That's right. He was a sprint sprinter on a big podium,
But with a scenario no one expected. What happened there?"
"You can keep watching, because there was always something going on. We might have hoped for some rain for the scene beforehand, but the weather was nice with the winds not being tight enough. However, we saw a nice tournament."
Alpecin – Phoenix

With Tim Merlier, the winner comes from the Christoph Roodhooft camp. Karl Vannieuwkerke: "Alpecin-Fenix ​​held the race and dominated it all day."
José de Coeur: "But without enduring the race. They somehow dominated the track."
"At a certain point Jasper Philipsen makes a good move into the leading group. For a long time it seemed as if the winner would come from that group of 12. But then the merging of peloton 2 with platoon 3 began and it all started again."
Vannieuwkerke: "Jasper Philipsen also had misfortune at the time. The sprinter has a punctured tire and suddenly he gets stuck alone between the leading group and the rushing peloton."
Karl wants to know: "He keeps fighting for 6-7 kilometers. Will that title cost him?"
Jose: "I think so. He kept fighting to stay ahead. And I understand that somehow. You pulled out of a leading group that you think you're going to win from. And then you don't give up that easily."
"He should have decided faster to get caught. In the end he fell a short meter into the sprint, losing him there."
"Is this an experiment?" asks Karl Vanneukerke.
"You have to know that Philipsen became a pro at a very young age. He has already won many great things and will win many other things. If you see places of honor he rode together. For example, he was in the top 6 during the previous round 3."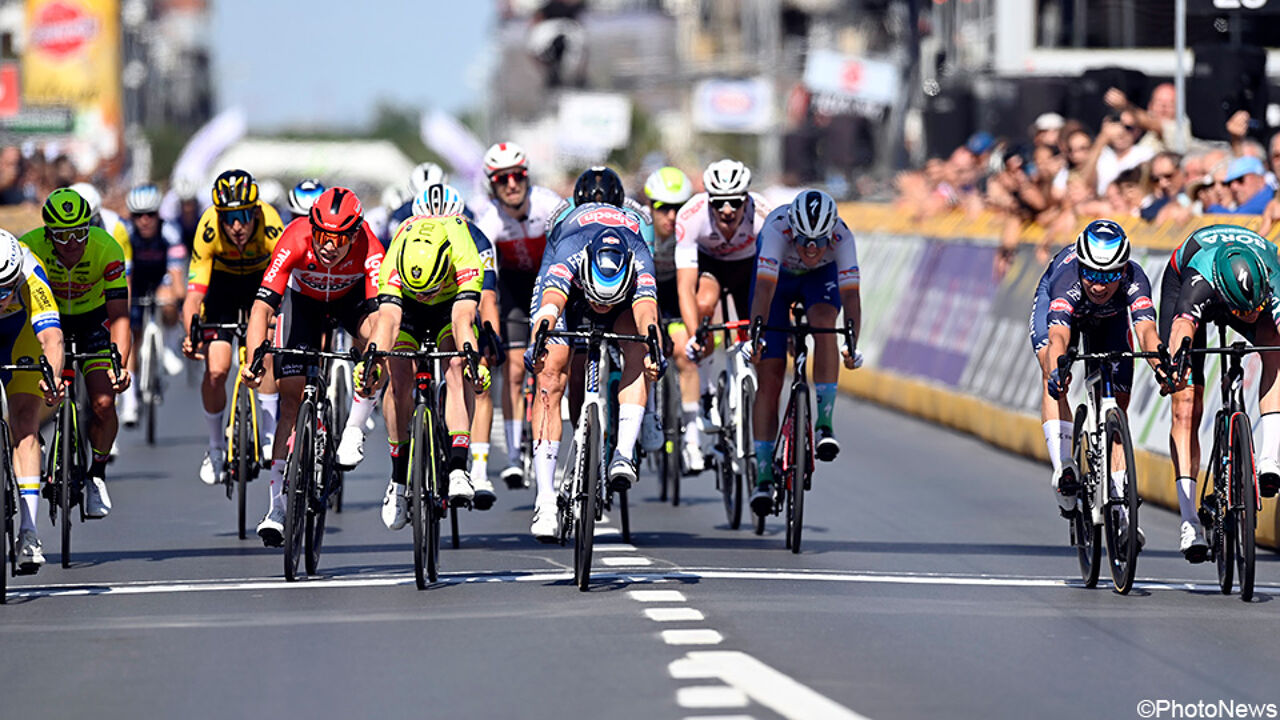 2 Of The Best Runners On A Team, Is That Possible?

Karl Vannieuwkerke: "The Tour starts in Copenhagen next Friday. Do you see him win the sprints this year?"
De Coeur: I hope so. He will be released. Especially the last sprint race on the Champs Elysees last year. I got hurt by that. Even though Wout van Aert didn't win in the slightest."
Vannieuwkerke: "According to Christoph Rudhoft, Merlier will move to Quick Step-Alpha Vinyl next year. There of course you already have Fabio Jacobsen and Marc Cavendish as fast guys. How hard is it to juggle two runners on the same team?"
José De Cauwer: "That's almost impossible. Philipsen and Merlier are two runners of about the same value. Philipsen is stronger in tough sprint races where you have to win,
Merlier is the fastest. It's tough and it's still tough."
"But if Merlier moves to Quick Step, I don't immediately see a conflict with Jacobsen. I suspect Cavendish will look elsewhere."
"They will split them and never put them in the same match. The calendar is full enough for that. The only moments I see a struggle are Kuurne-Brussels-Kuurne, Gent Wevelgem or Nokere Koerse."
"Subtly charming internet specialist. Avid writer. Friendly alcohol guru. Music ninja. Devoted social media fanatic."