In the Cyclocross World Cup, eternal rivals Mathieu van der Poel and Watt van Aert will face off against each other on Sunday. "When they realize what they meant to each other after their careers, a lot of respect will follow," their childhood friends say.
"Out of frustration, Wout once kicked a spoke from his wheels when he was 12 years old. It was after a defeat in a road race. Dad Henk was not allowed to race for a week, because he had to realize that a bicycle was an expensive item."
Dan Sweety – Been friends with him for 20 years Wout van Aert – Captures anecdote to highlight Wout's little winning mentality.
"Wout wasn't a good loser as a kid. But that's typical of great champions."
Everyone looked at Matthew because he had a neat bike.
As a 9-year-old, Van Aert crossed the border to ride youth races at Hoogerheide and Bergen op Zoom. There was also one Matthew van der Pol He was driving in a different age group because he was a year younger than Van Aert.
Everyone was looking at Matthew at the time. We said to each other "He's got a really neat bike." Then Matthew rode the best stuff: carbon wheels from his dad and Dugast tubes," Sotti still remembers.
"On top of that, Mateo won every game he started in. Exactly he is the son of the gods."
Van der Pol vs. Van Aart in the juniors: 16-1

Van Aert did not have his stature in his youth. With newcomers, he always had to acknowledge his boss at Van der Poel, one year his junior.
"Wout, like all other cyclists, had only one goal: to close the gap on Van der Poel. Because he often drove a minute ahead of the competition," Soete recalls.
No one then thought that years later Van Aert and Van der Poel would become each other's greatest rivals.
But Van Aert got a growth spurt when he was young and also grew as a rider.
"I saw that Wout was the go-to guy among the juniors. As a sophomore junior, he was always on the podium and could make it very difficult for Mathieu on some crosses," says Jorben van Techelt, a contemporary of the 2 Tenors and childhood friend of Paul van der Van Der.
In the 17 matches they started together as juniors, Van der Poel won 16 times, Van Aert was on the top podium once.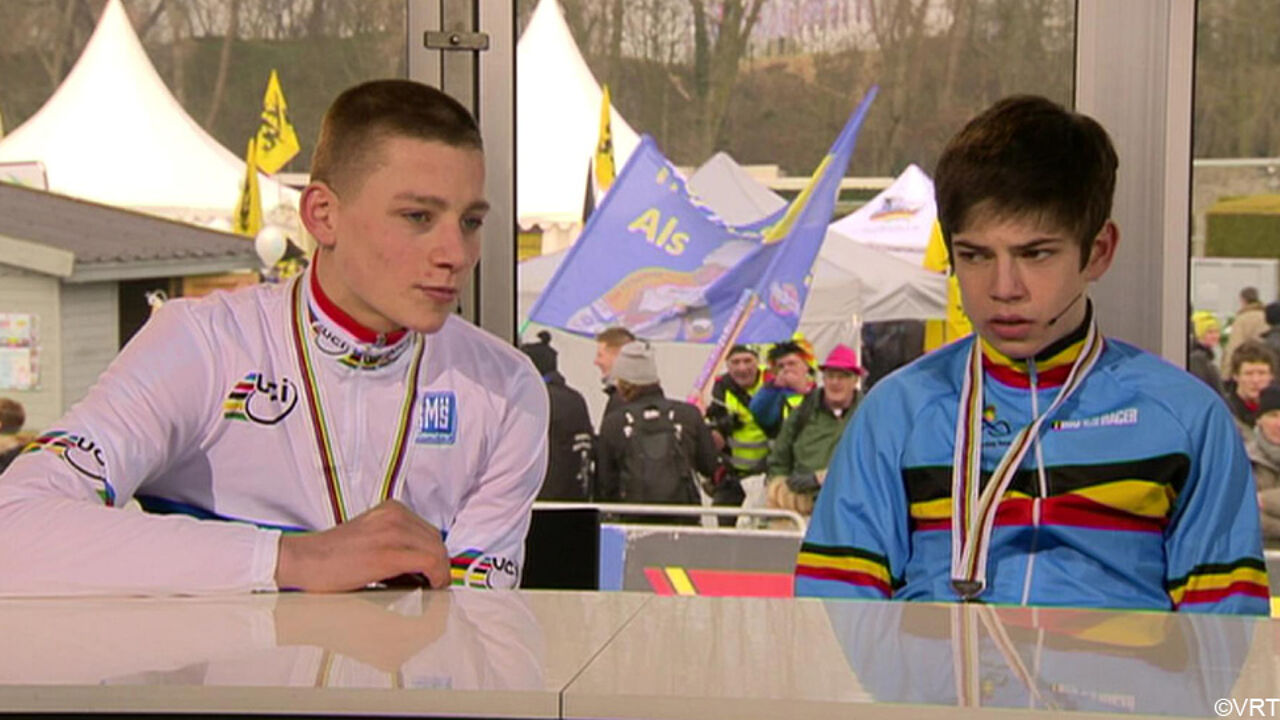 Matteo van der Pol and Wout van Aert in the Sporza studio after the 2012 World Junior Championships.
"Wout got motivated by frustrations"

Only with promises did the conflict really crystallize. Van Aert took it a step further and impressively drove to the world title in 2014 at Hoogerheide, Van der Poel's home stadium.
"Since that time, Wout and Mathieu started pushing each other to a higher level," says Van Tichelt.
"Then the rivalry also arose. There was swearing at each other in defeat. It makes sense, if you're each other's rivals and you both have a winner's mentality."
"Losing Matthew frustrated Wout," Soete says. "But he got motivated by those frustrations."
"Wout wanted to beat Matthew again the following week, and he often succeeded. To be tenacious and never give up: that's Wout's greatest talent."
According to his childhood friend Van Techelt, Van der Poel could not always handle defeat well. "It had nothing to do with Boot, but with the fact that he himself didn't win."
"After the defeat, some wine – Van der Poel does not like to drink beer – was sometimes played at a friend's house. Matthew was less sober than usual on Monday," laughs Van Techelt.
"More respect for each other after their careers"

In the classics, on the tour and on the field. Van der Poel and Van Aert had now been rivals of each other for a year.
On Sunday, the two will face off again with the world title on the line.
With a sense of competition? "If you've been competitive with each other for a long time, you won't be good friends," Soete says. "But they always cross paths with a lot of respect for each other."
"When these guys see what they meant to each other after their careers, there will be a lot of respect for each other," concludes Van Techelt.
"Subtly charming internet specialist. Avid writer. Friendly alcohol guru. Music ninja. Devoted social media fanatic."