Audio specialist Multiroom Sonos has just released two new soundbars. We've heard of the Era 100, which is the successor to the popular model, for example the popular Sonos One. As tossed across a bow: it looks better, but its obedience is much less.
Sonos is the undisputed market leader in multi-room speakers: speakers that play the same music in perfect sync in every room of your house (party!), or play a different song, radio station, or Spotify playlist in every room. The more you talk, the more fun, but of course you have to start somewhere. Most consumers do this with one or two Sonos One models; The advantage of the kit is that you can put it right away in a stereo setup. You're currently paying €229 for the regular Sonos One, and the One SL variant without a mic goes for €199, but with this speaker you miss out (in our many opinion) the benefits of voice control.
Real play for everyone
The One SL will still be in the range, but the Sonos One will eventually be completely replaced by the Era 100. The price will remain the same, you'd think, but nothing could be further from the truth. For the new speaker, as usual available in black and white, you only have to pay fifty euros extra. If you get two at once on the house, you lose €558. For comparison: the Sonos One and One SL (one mic is sufficient in a stereo setup) together cost €428, or €130 less. Something to consider if you still want to get a good deal while supplies last.
Fortunately, the rear—in addition to the more compact, oval design—provides necessary new features that justify the somewhat extra price. The most important thing is the sound and still. Not that the Era 100 sounds any better than that, but you do hear some progress. This is due on the one hand to a 25 percent larger woofer (for some extra bass) and on the other hand to the dual speaker technology that allows stereo reproduction limited to just one speaker. Let's face it: You can only achieve a true stereo feel with two separate speakers spaced a little further apart.
The Sonos speaker only sounds perfect after being tuned using the manufacturer's Trueplay technology. You can do this by walking around the room with your iPhone or iPad, while your Sonos speaker plays different tunes for about a minute. In this way, the acoustic characteristics of the room are determined, so that the speaker can adapt to them. What's new with the Era series is that this is now also possible with an Android device, albeit in a slightly less advanced way: you don't wander around, as with an iOS device, but do the calibration from a deadlock. It takes much less time to set up this way (a few seconds) but – as Sonos himself admits – the result is less good than on an iPhone or iPad. In short, it's nice that it works with an Android smartphone from now on, but you'd still prefer to borrow an Apple device from a friend or family member. This isn't a huge drawback, because as long as you don't move the speaker around, you only have to set Trueplay once.
Wifi and bluetooth
Every Sonos speaker comes with Wi-Fi natively; It's the standard way to include devices in your home network and connect them to each other. Until now, Bluetooth was only available as an add-on on Sonos' portable models, the larger Roam and Move. The Era speakers are the first wired Sonos speakers to support WiFi and Bluetooth. This means that you can also take these speakers with you on vacation or to a party, where you don't have WiFi. This also makes it a little easier to enable visiting friends to play their playlists. You can do this without the Sonos app, but directly from their Music app.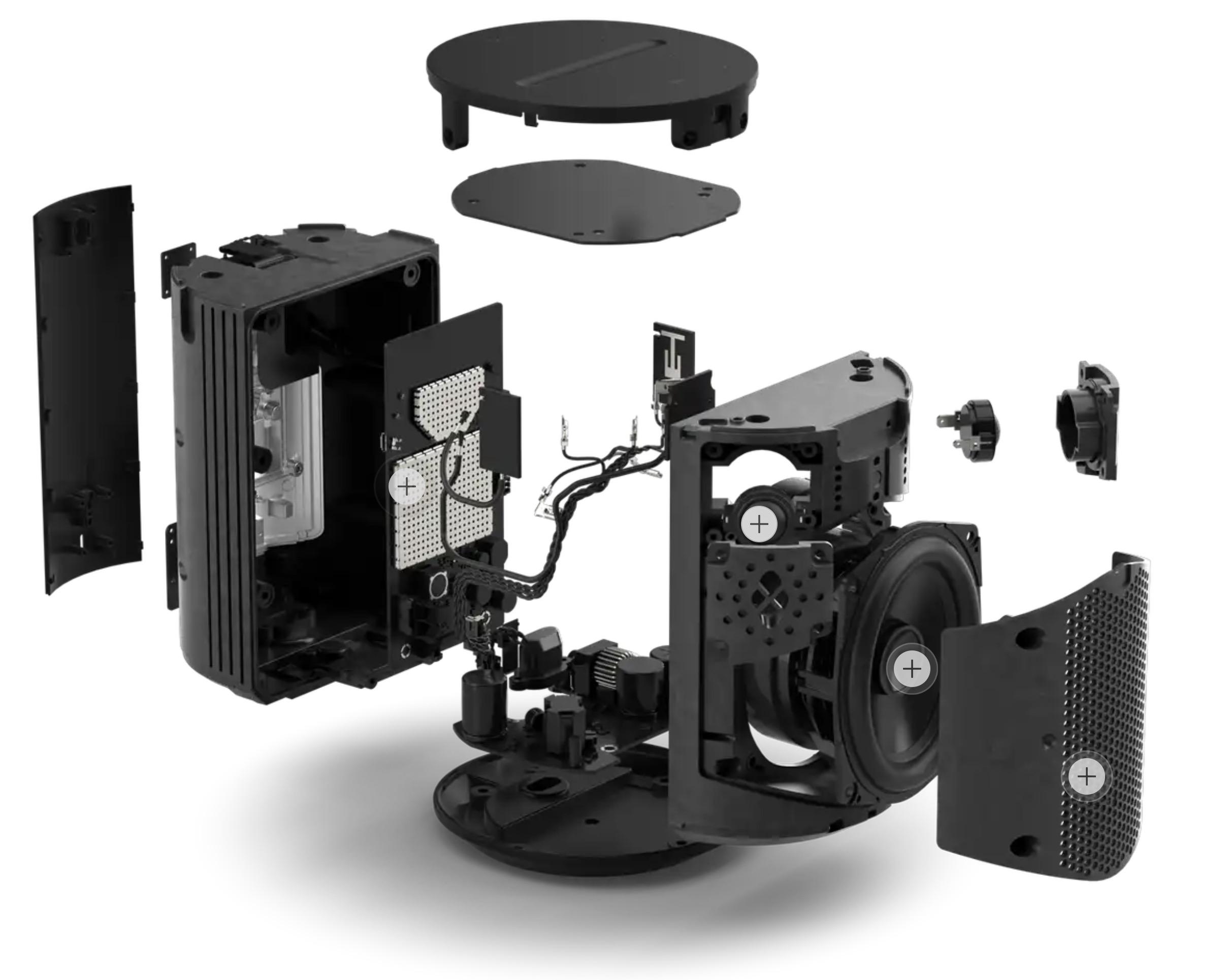 Another welcome improvement is the volume slider at the top, with which you can adjust your desired decibels more precisely (because it's a slide). You can also still control volume the old-fashioned way, by tapping the slider all the way to the left or right. Either you use the app, the desktop app, or — our preferred method — a voice command.
On the back of the Era 100, in addition to the microphone button (to turn off the microchips), we also see a USB-C port. Its purpose is to connect an external audio source such as an MP3 player or even a speaker. Unfortunately, Sonos does not include the necessary line-in adapter and costs €25 separately. You should also provide a 3.5mm aux cable by yourself.
I moved?
With this we have almost reached the end of the review which, for us too, seems to be heading towards the full five stars. But this party is not over yet. We gradually discovered a serious downside for Google Assistant avid users. This voice assistant, no less popular in our area, is suddenly no longer supported by the Era series! And that's while it's been on all other Sonos speakers with a built-in mic for years — including the one that should give way to the Era 100.
According to the manufacturer, it can no longer support Google Assistant because the search giant has "changed its policy." It is not clear if Google Assistant will appear ages later. At the time of this writing, the previous generation of Sonos speakers were still listening to Google Assistant, and with all other owners of such speakers, we sincerely hope that's still the case…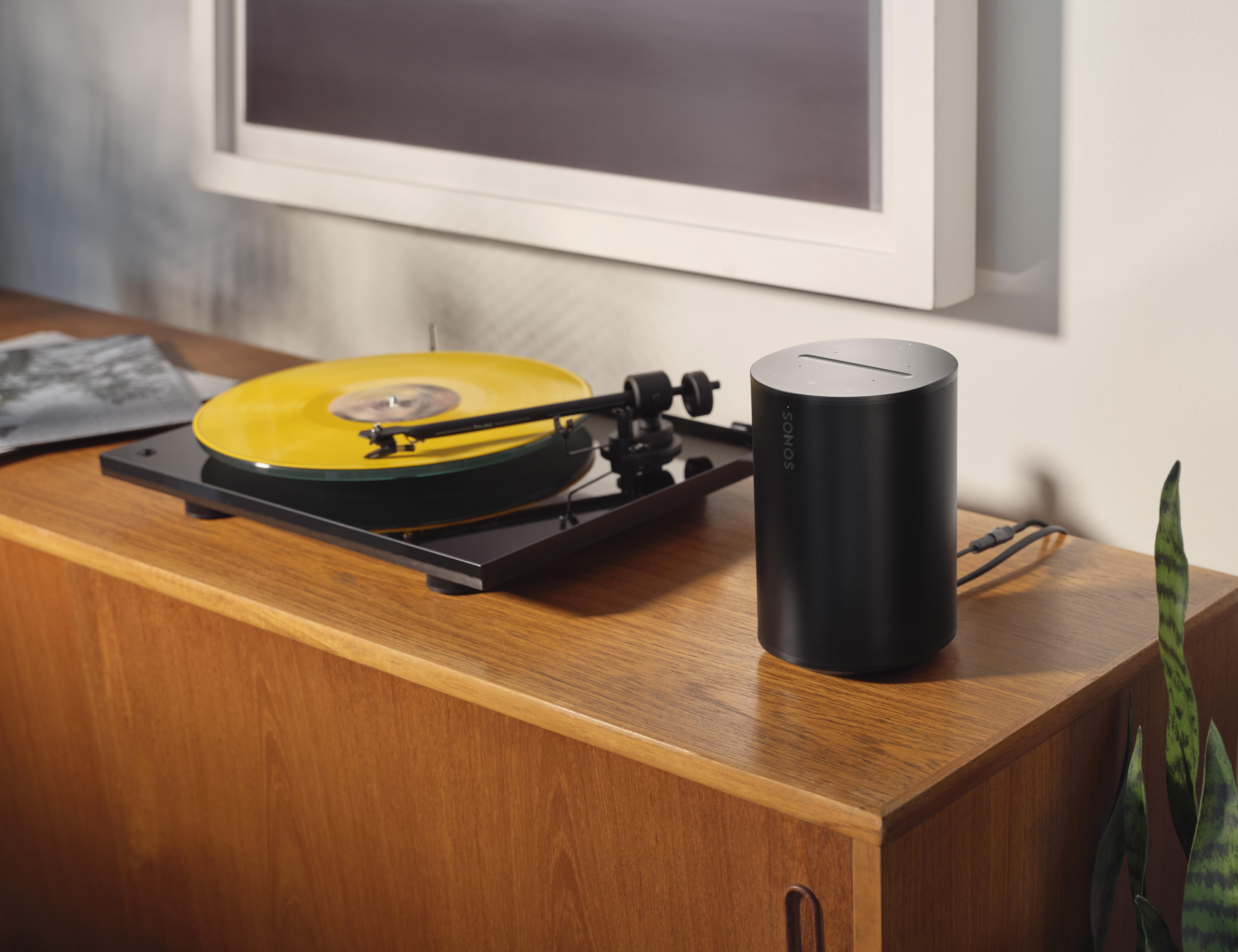 Don't get us wrong: You can still control the Sonos Era with your voice. Via the built-in microphone (read: live) this is possible with both Amazon Alexa voice assistant and Sonos voice control. However, unlike the Google Assistant, these assistants don't speak Dutch, and they can't communicate with any other smart devices in the home that you've linked to the Google Assistant. For followers of this digital server, this is just a solid step back, and it certainly doesn't invite you to buy additional Era speakers in the future.
Conclusion
If you can no longer do without Google Assistant in your robotic life, the Era 100's high price isn't the only reason to keep choosing the older Sonos One — while supplies last. Deleting this popular speech assistant leads to a complete deduction of points for the speaker in our test. Still, if you're averse to voice control or are content with Sonos' speech solution (it's in English and pretty limited), there's not much to criticize about the Age 100. It sounds a little better than its illustrious predecessor and offers plenty of useful features. New Tools, Such as Bluetooth, line-in and Trueplay for Android. That means the era is definitely ready for the next, though it will face increased competition from Apple's HomePod speakers, which also underwent a refresh earlier this year.
• Target price: €279 (available in black and white)
"Thinker. Coffeeaholic. Award-winning gamer. Web trailblazer. Pop culture scholar. Beer guru. Food specialist."