Scientists have discovered 90 new animal species in Southeast Asia in the past two years. And, as is often the case, sometimes discovered species have remarkable looks and remarkable traits. For example, researchers in Cambodia found a very aggressive lizard with a beautiful blue crest. A "very dangerous" snake was found in Myanmar and China, which was found to be highly venomous. The World Wildlife Fund (WWF) included all of the finds together New report.
All plants and animals have their own name. For example, the highly venomous snake 'Suzhen's krait' is named after Bai Suzhen, the snake goddess from Chinese mythology. The blue-crested lizard is now called Calotes Goetzi, after the scientist Stefan Goetz who helped protect the species in Cambodia.
defense
The lizard, which was discovered near the archaeological site of Angkor in Cambodia, is not only an excellent climber, but also a vicious defender of its territory and eggs. Moreover, this lizard can change its color as an additional defensive trick.
The Krait Suzyn is a very dangerous white snake with thick, brown rings. In a World Wildlife Fund report, a researcher explained that this type of snake often forages for food in homes at night. "People often get bitten in their sleep if they accidentally touch the snake." Scientists believe that discovering the snake and researching its venom could help save human lives: a new type of antivenom could be developed to help victims.
Moose or frog?
The discovery of a large moss-like frog is unique to scientists. This particular animal is found in Vietnam, which according to German researcher Thomas Ziegler is a "biodiversity hotspot". In addition, many amphibians are only found there in a certain place in Vietnam, "which makes them particularly vulnerable to extinction."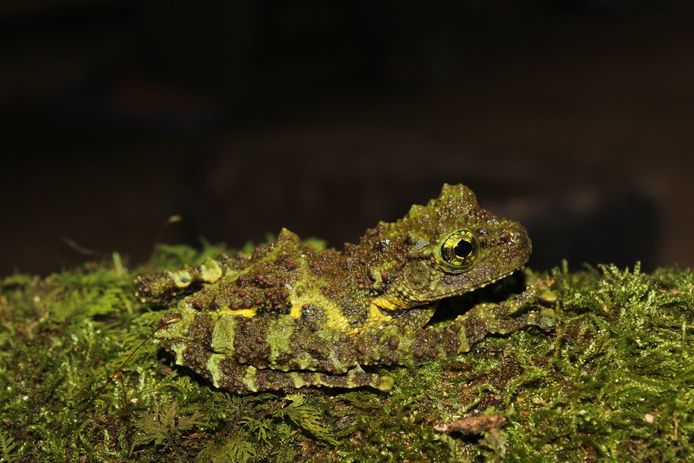 Also 290 new plants
A total of 46 reptiles, 24 amphibians, 1 mammal and 19 fish were discovered over two years (in 2021 and 2022) in the Mekong Basin in Southeast Asia. Furthermore, no fewer than 290 plants have been designated. This makes a total of 380 new species. These include a small orchid from Laos that resembles the pink 'Mahna Mahna' flower from Muppets and a new variety of ginger from Thailand.
under pressure
Hundreds of scientists from universities, conservation organizations and research institutes have jointly discovered new species of animals and plants. The World Wildlife Fund stresses that they are new to science, but that they have "survived for millions of years and evolved in the Mekong region." The species is under pressure from humans, for example through tourism and deforestation. We must do everything we can to stop their extinction.
Unlimited free access to Showbytes? Which can!
Log in or create an account and never miss a thing from the stars.

Yes, I want unlimited free access
"Creator. Award-winning problem solver. Music evangelist. Incurable introvert."