Network coverage as per plan
Telenet and BASE have been gradually building their 5G network since their launch in December 2021 and are now well on their way to achieving their coverage goals.
Currently, more than 850 mobile sites provide 5G coverage. More than 260 municipalities already have one or more active 5G masts on their territory. The vast majority of sites have been activated in Flanders, in and around large cities such as Antwerp, Ghent, Genk, Leuven, Mechelen, Aalst, Hasselt, Kortrijk, Lokeren and also in coastal areas.
5G already has impressive coverage in these cities – covering 55% to 80% of the population. The Belgian coast also has good 5G coverage, in some areas it is almost 85%. In addition, routes between densely populated areas are of particular interest.
Focus on the largest Flemish cities:
Focus on the areas of the Belgian coast with the best coverage: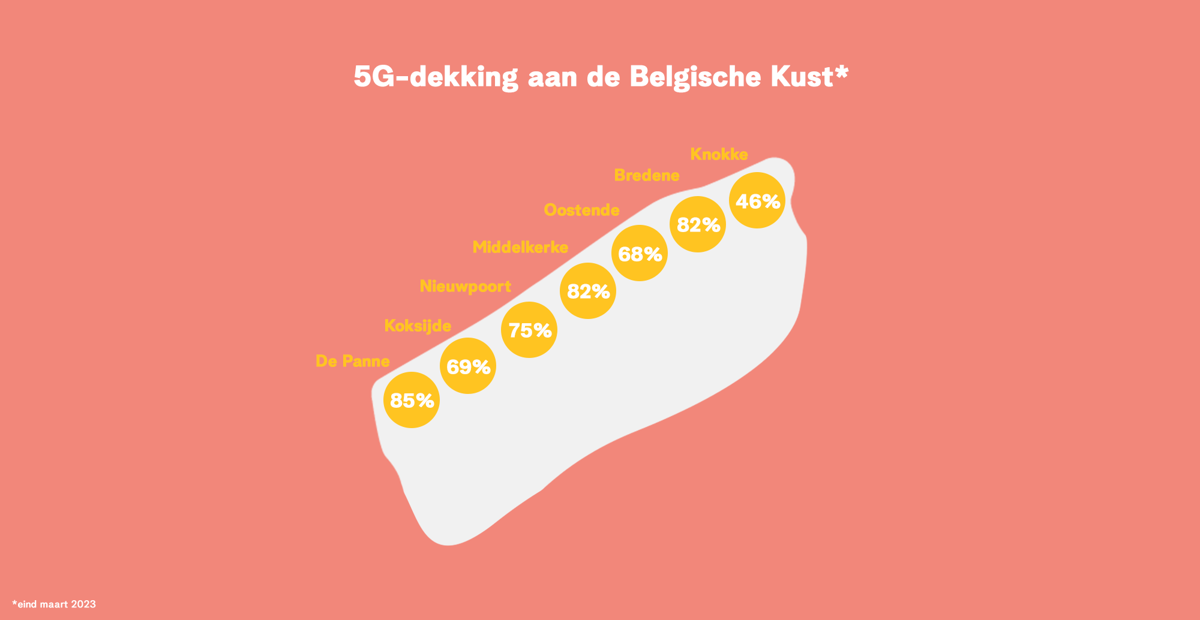 Due to delays in adopting electromagnetic wave emission standards, Brussels does not yet have 5G, and coverage in Wallonia is limited to areas around Charleroi Airport and parts of Mons and Ath. Recent approval of standards in Wallonia and Brussels should enable Telenet and BASE to expand their 5G network there very soon.
Luk Bruynseels, Chief Product and Technology Officer at Telenet/BASE:
"We are very pleased with the progress made in expanding our 5G network in Belgium. We have planned a total investment of approximately 300 million euros in roll-out of the technology by 2025. This year alone, we want to increase the number of sites on the territory. While initially we had to limit We are in Flanders, we are now about to start rolling out to Wallonia and Brussels. In these two regions we will focus first on the areas where the need for additional capacity is greatest We still expect the majority of our 5G investment to be ready by the end of 2025."
An increase of about 50% per month
While expanding 5G network coverage, Telenet and BASE have noticed a steady increase in 5G data usage by their customers. Daily 5G data usage has grown by an average of 50% per month over the past year, compared to 30% per month for 4G at the same time the technology was launched. 5G now accounts for about 4% of all data traffic, compared to 94% for 4G and less than 2% for 2G and 3G.
Luk Bruynseels, Chief Product and Technology Officer at Telenet/BASE:
"We are seeing a huge increase in data usage on our 5G network as more and more customers are reaping the benefits of this advanced technology without having to pay higher fees. 5G enables faster speeds, faster response times and more capacity. The digital experience we want as many as possible to enjoy." possible persons.
The success of 5G phones
Finally, data usage on 5G cannot grow without compatible smartphones. Thus, Telenet and BASE are seeing steady growth in the penetration of 5G phones among their customers. As more 5G-compatible devices enter the market, more customers choose to take advantage of the larger capacity of 5G technology.
Oliver Knoby, Devices and Telephones Officer at Telenet/BASE:
"5G is not yet the defining criterion for choosing a smartphone, but we are seeing a continuous increase in the number of 5G compatible smartphones among our customers. After all, more and more customers are choosing top notch smartphones because they want all the functionality. Most of them are 5G smartphones. Currently, about 30% of smartphones using our network are 5G compatible, compared to just 22% a year ago.In addition, about 85% of smartphones sold in March 2023 were 5G compatible, compared to only 70%. In the same month last year.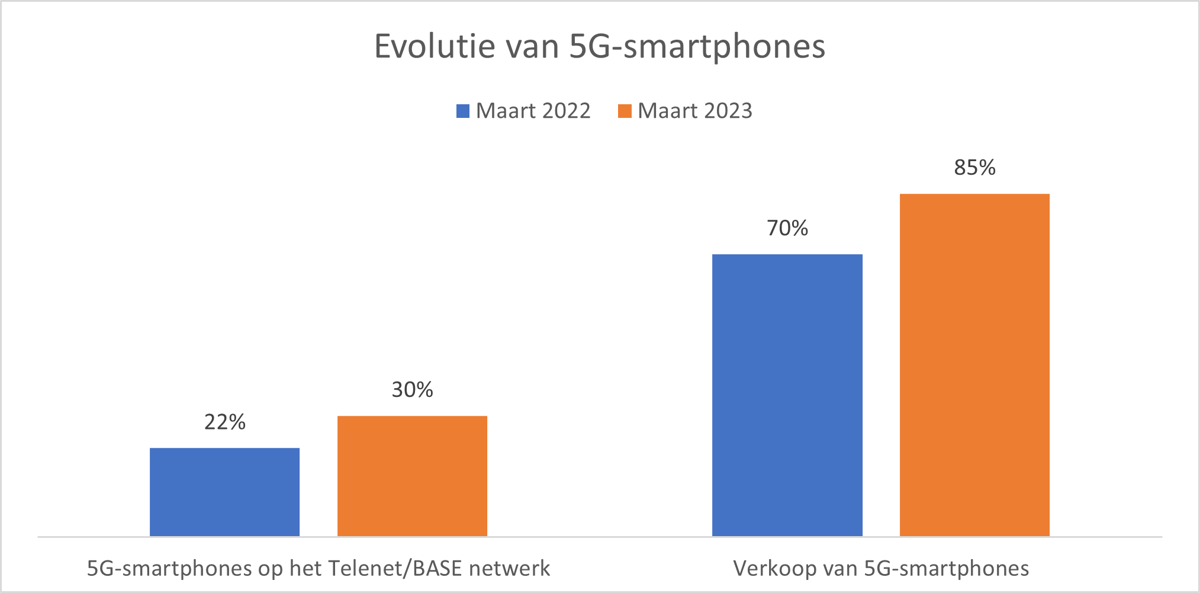 5G_Coverage_National-BASE-Colors_2.png
1 megabyte





5G_Coverage_National-TELENET-Colors_2.png
1 megabyte


"Thinker. Coffeeaholic. Award-winning gamer. Web trailblazer. Pop culture scholar. Beer guru. Food specialist."