Advertorial
Student on a budget, romantic brunch or evening out with friends? Discover the best recipes for every occasion and every budget in your My Delhaize app.
Once again, Delhaize succeeds in inspiring you and making your life easier. Thanks to the new functionality in the My Delhaize app (downloadable via Google Play or the App Store on your smartphone or tablet), you'll find plenty of inspiration for a well-balanced meal at an affordable price. With the Recipes tab you have more than 1,000 recipes at your fingertips, including 200 for less than €3 per person. Not bad, right? Are you thinking of something specific? You can easily find the perfect recipe based on budget, preparation time, type of dish (appetizer, main course, dessert) or type of cuisine (Italian, Asian, vegetarian…).
student
Are you about broken or on the block? In a few clicks you will find more than 200 recipes for less than 3 euros per person, then the groceries will be delivered to your room. Because when you block, every minute counts! As a member of the SuperPlus Loyalty Program, you benefit from many benefits that help you save.
Quick spaghetti bolognese with basil
Duration: 15 minutes / Budget: € / Difficulty: Easy
Ingredients for 4 people
Tomato sauce with basil in a jar 840 gr
macaroni 500 gr
Marinated minced pork 500 gr
Onion 1
carrot 160 gr
Italian seasoning 1 level tbsp
olive oil 2 tbsp
salty
Pepper
to prepare
To prepare the pasta, bring salted water to a boil in a large saucepan.
Chop the onion, and grate the carrots (with the coarse side of the grater). Place them and the minced meat in a large frying pan with 2 tablespoons of olive oil. Sprinkle with Italian herbs and vegetables over moderately high heat. Meanwhile, stir the minced meat regularly with a spatula so that no large balls form. Once slightly colored, add the tomato sauce and season with salt and pepper. Pour 5 cl of water into each sauce pan, close, shake, and add water to the sauce. Simmer gently.
Meanwhile cook the spaghetti. Drain and serve immediately with Bolognese sauce. Finish with your favorite grated cheese.
advice
Freeze leftover sauce in batches for those days when you don't have time to cook.
Romantic lunch for two
Thanks to the new functionality in the My Delhaize app, you can easily adjust the quantities of each recipe for meals for two. No more headaches due to the famous rule of three! Perfect for a stress-free brunch.
Eggs Benedict with asparagus
Duration: 20 minutes / Budget: Euros / Difficulty: Easy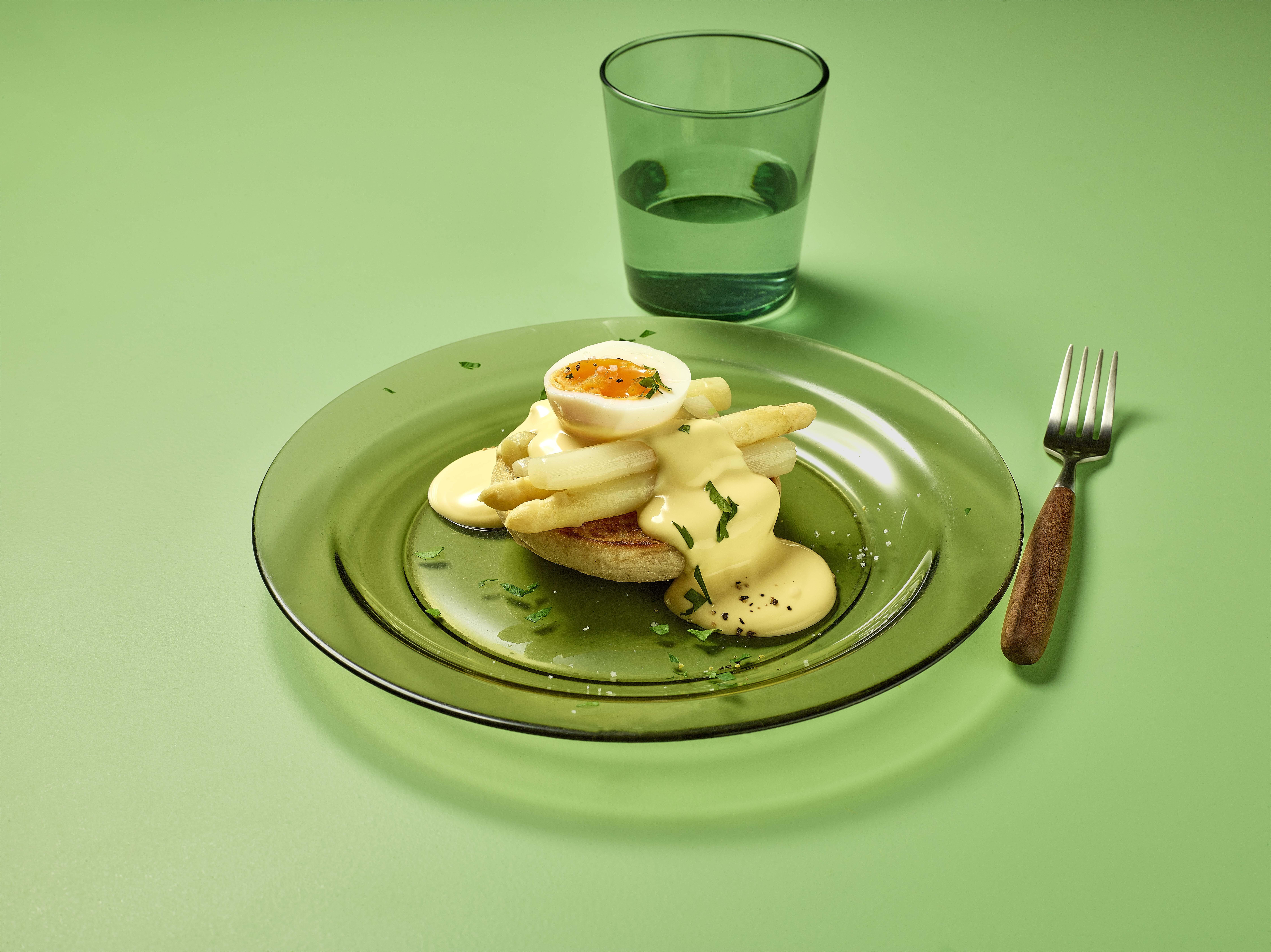 Ingredients for two people
egg 2
white asparagus 200 gr
parsley sprigs; 2
Emperor roll 1
Knorr hollandaise sauce 1 dl
Pepper
salty
to prepare
Bring water to a boil in a large saucepan and carefully place the eggs into the boiling water with a slotted spoon. Once the water starts boiling again, the eggs will be ready after 5 to 6 minutes (depending on the size of the eggs). Then immerse them immediately in the ice water.
Meanwhile, remove and peel the tough ends of the asparagus. Cut into 2 and steam for 6 to 7 minutes (check if done).
Boiled eggshell. Heat the sauce according to the instructions on the package. Cut the cake into 2 and grill.
Put half of a sandwich on each plate, put the asparagus on top and cover with some of the sauce. Arrange the chopped eggs on top, garnish with parsley, and season lightly with salt and pepper. Serve immediately.
advice: Like soft boiled eggs? Make sure the eggs are at room temperature and that the water is not boiling hot. Otherwise, the eggs will begin to bounce back, which can cause them to burst and release the egg whites.
Evening with friends
Are you looking for an exotic dish full of flavour? Choose a dish that you can prepare in advance. This way, you only need to heat it over low heat for a few minutes before going to the table.
Wok with chicken, red curry and coconut milk
Duration: 15 minutes / Budget: € / Difficulty: Easy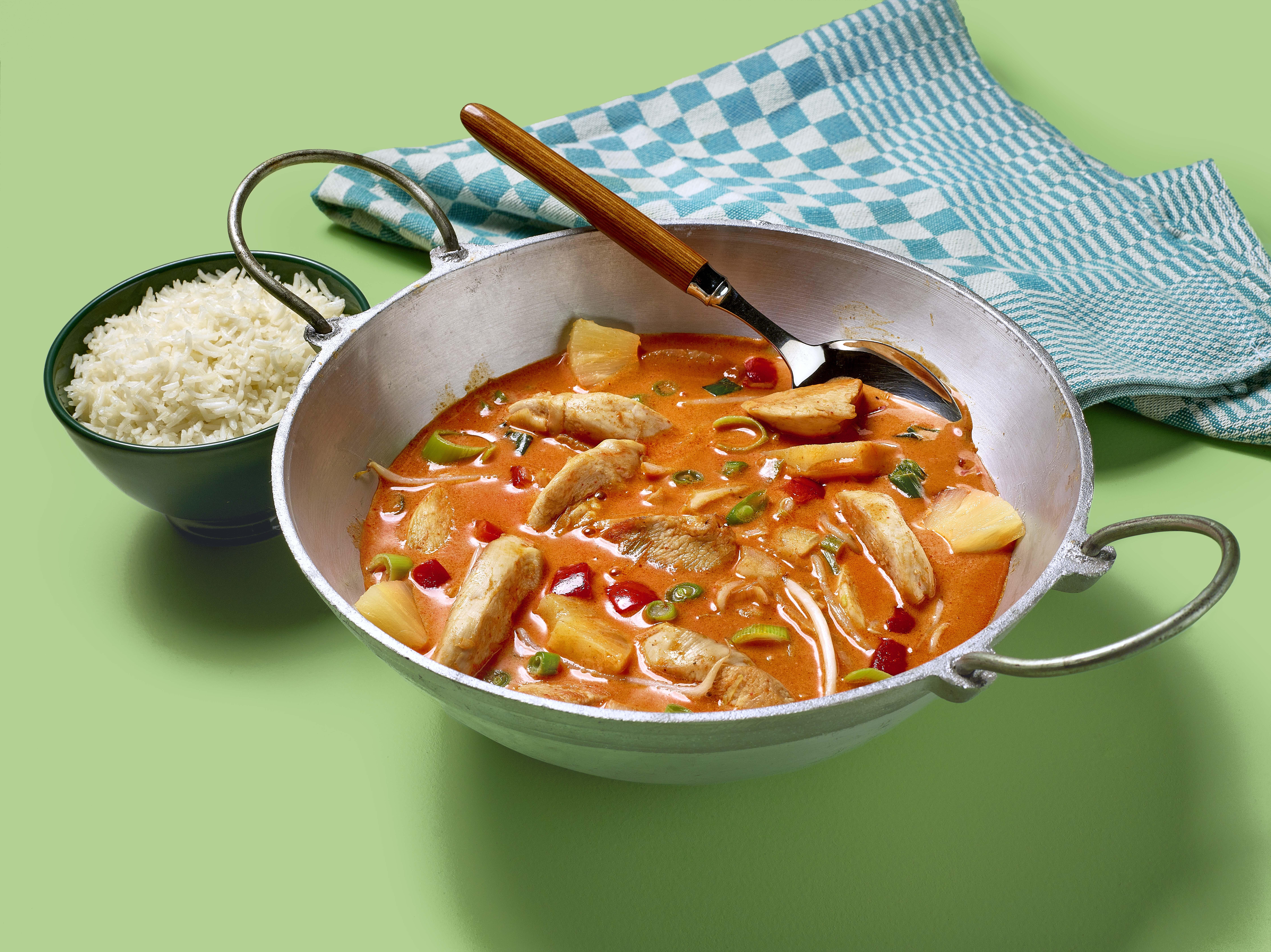 Ingredients for 4 people
Pineapple juice cut into pieces 227 grams
Red curry paste 2 tbsp
Wok vegetables with red pepper 400 gr
Chicken breast fillet 550 gr
coconut milk 4 tbsp
peanut oil 2 tbsp
salty
to prepare
Cut the chicken fillet into cubes. Fry them over high heat in a wok or frying pan with oil until golden brown. Add the curry paste and mix for a minute, then add the vegetables. Place the lid on the pan and let it reduce for 5 minutes over low heat.
Cut the pineapple slices into small pieces and add them with the juice from the can and the coconut milk. Simmer for 5 minutes over low heat.
Season as desired and serve hot with Thai rice or basmati rice.
advice
Add a dash of lemon juice and/or fish sauce at the end, if you have it at home. Sprinkle with fresh cilantro and some chopped peanuts, if desired.
6 advantages of the My Delhaize app
Recipe ideas: More than 1,000 delicious recipes, 200 of them for less than 3 euros per person. Find ingredients, budget, preparation time, and type of cuisine (Italian, vegetarian, Indian, etc.). Then save your favorite recipes.
• Shopping list: Save your favorite products to the shopping list in the app.
Balanced eating: Choose Nutri-Score A or B. Not only will you find this score on products, but also in recipes in your My Delhaize app.
• No growling: Choose the digital receipt instead of the paper version when you shop at the store. Scan the barcode of the products in your cupboard (fridge) for a while and find a recipe in the app. This way nothing is lost.
Savings: With the SuperPlus loyalty program, you can benefit from e-deals (activated in the app before purchasing the product online or in store) and Promo-Boost (additional discount on top of the brochure promotions). Have you spent €99 or more at Delhaize in the last month? Then you get 10% off fresh produce with Nutri-Score A and B. Redeem your points for discount products or coupons. These are deducted directly from the receipt.
• time saving: Order online and get your groceries delivered to your home or store.
More recipes? click here.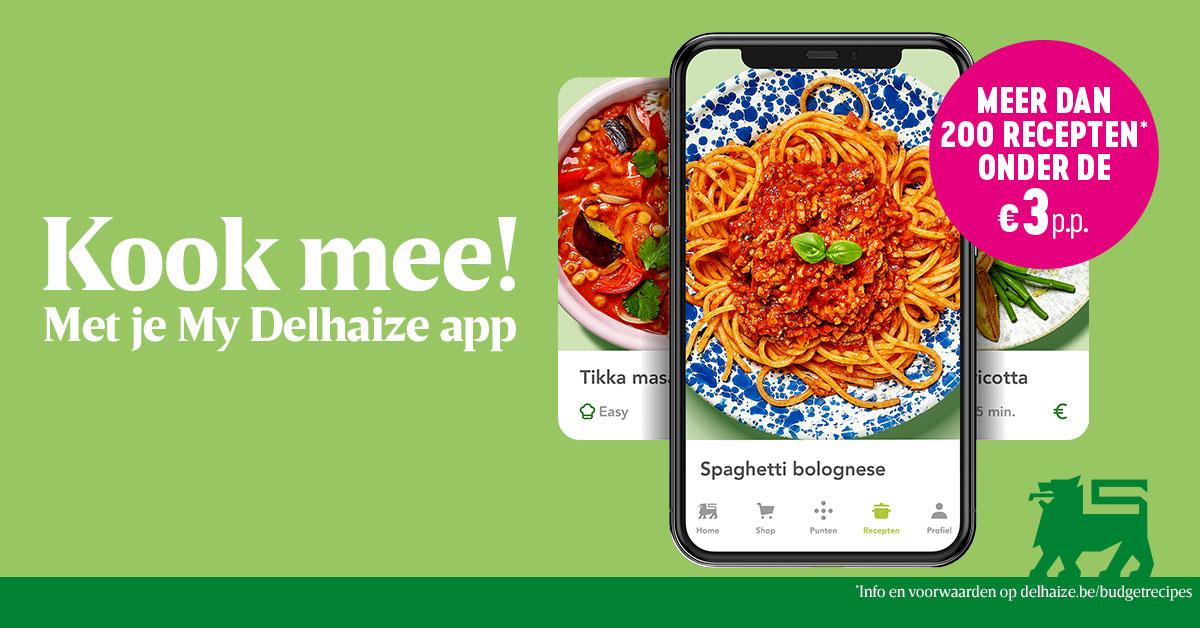 *More information and conditions at delhaize.be/budgetrecipes
**The Nutri-Boost 10% discount cannot be combined with other offers. Feature reserved for SuperPlussers with the 'Personal' or 'Unique' profile. Information and conditions on delhaize.be/superplus.
"Thinker. Coffeeaholic. Award-winning gamer. Web trailblazer. Pop culture scholar. Beer guru. Food specialist."