With the World Economic Forum in Davos, it will also be very busy at the airports around the Swiss commune. Attendees take the private jet en masse for this elite party. However, global warming is one of the hottest topics discussed. Can a different site offer consolation?
You'll usually find wealthy winter sports enthusiasts in Davos, Switzerland, who pay between €250 and €1,000 a night for one of the hotels in the area. For a six-day ski pass, you pay another 450 euros per person.
But this week there is no room for tourists. 2,700 of the world's most influential people are expected to attend the World Economic Forum, and they will bring with them a large entourage of security men and their aides. This is in a tourist area with a population of less than 11,000 people, at an altitude of 1,560 meters.
All countries and major corporations send representatives, and Ukrainian President Volodymyr Zelensky is likely to attend. King Philippe and Queen Mathilde, Prime Minister Alexandre de Croo (Open Vld) and Prime Minister Jean Gambon (N-VA) will be present for our country.
A private 21-kilometre excursion

Switzerland may be the European train country par excellence, but due to Davos' location, traveling by public transport is nearly impossible. You will have to travel 800 kilometers from Brussels for at least nine hours and change trains eight times, as can be read on Google Maps. By car you are on the road from Brussels in about the same time, by plane you can be in Zurich in just over an hour.
Many government and business leaders choose not to come with a scheduled flight, but to book a private jet. Research by Delft University commissioned by Greenpeace showed that the number of private flights in May last year, when the World Economic Forum took place, rose by no less than 93 percent. The number of private aircraft flying more than 3,000 kilometers turned out to be particularly high.
But some short trips are surprising. For example, there was a private plane that traveled only 21 kilometers before flying to the French port city of Cannes. The researchers found that there were 500 more private flights in a WEF week compared to an average week – ten flights to and from Belgium. Combined, these trips produced 7,400 tons of carbon dioxide, the same amount that 1,600 passenger cars emit in an entire year.
And at a time when global warming is considered one of the most important challenges facing the world. "I know the arguments, but that goes for any summit," says economist Peter De Keyser, managing partner of Growth Inc. His former partner has traveled to Davos many times – only to spend hours by train and taxi on the way to his hotel. But look at the Climate Summit in Egypt, to which even larger delegations went. In addition, many of the attendees also take scheduled flights. It is important to organize such summits so that key stakeholders from politics, business and NGOs can meet and discuss key issues. This kind of thing works best face to face. Imagine if they didn't meet at such get-togethers. Then they still want to see each other and get more air miles."
moves?

The fact is that global warming is one of the topics that will be discussed the most in Davos. So you may ask yourself if it is still appropriate to hold this meeting in a hard-to-reach mountain village. Everything has to do with tradition. The World Economic Forum has been organized by Klaus Schwab since 1971 and has since become a household name. It is closely associated with Davos. However, moving to Zurich, for example, would certainly not be a bad thing to send a signal.
Or why don't you move to another part of the world? De Keyser suggests. Anyway, I don't think it will be another ten years before this summit takes place in Qatar, Riyadh or Singapore. In Europe, we must realize that we are no longer the center of the world. Hence it is a good argument for choosing a place that is much more accessible."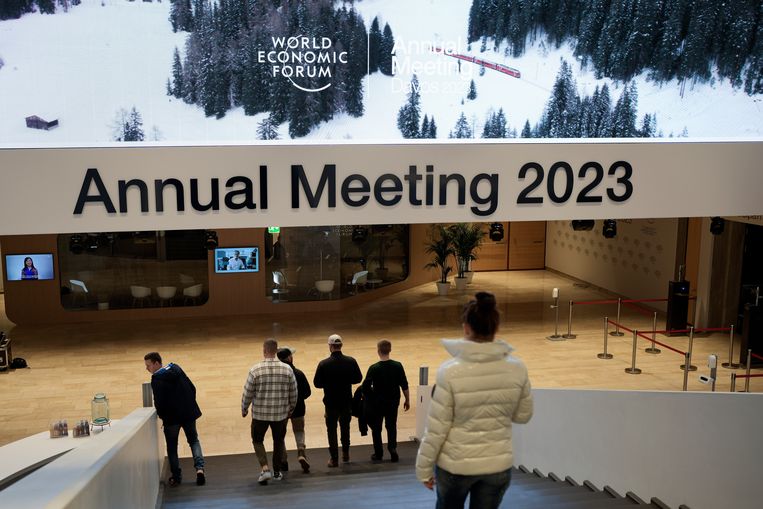 How are the Belgian delegates going? The Green Minister also takes a scheduled flight

King Philip and Queen Mathilde are to attend the state funeral of King Constantine of Greece in Athens on Monday morning. They will be brought in by a military plane, which they will also fly to Davos later today. "Military aircraft pilots still have to collect the necessary flying hours, which can also be done in this way," it appears in the palace.
Today, the political delegation will travel together to Zurich, Switzerland, on a scheduled flight in economy class. The Federal Government is represented by Prime Minister Alexandre de Croo (Open Vld), Minister of Foreign Affairs Hejja Lahbib (MR) and Deputy Prime Minister Petra de Sutter (Groene). "As always on business trips, taking the train was thought of first. For practical reasons and to gain as much time as possible, I became flying," says Cabinet de Sutter. Prime Minister Jan Gambon (N-VA), as the sole representative of the Flemish government, will take a scheduled flight to Zurich in economy class.
"Total coffee specialist. Hardcore reader. Incurable music scholar. Web guru. Freelance troublemaker. Problem solver. Travel trailblazer."