Bearskin… Anderlecht booked an impressive win over AZ (2-0) tonight and thus secured an excellent starting spot for next week's return leg. "But we didn't even think about the semi-finals for a second. Back first," it seemed in unison to Purple & White.
Anderlecht taught AZ a lesson in efficiency.
"The difference between Arizona and us? That we scored and they didn't. Arizona certainly wasn't the lowest of the game," Jan Vertonghen admitted after the 2-0 win in the Conference League match.
"This is how you should play a game: give few chances and finish with small chances," continues goalkeeper Bart Verbruggen's conclusion to his captain. "It was nice to see how our guys finished it off."
We have the best cards for the second match, but we can't throw them away.
Verbruggen himself was also one of the stars on Purple & White. fixed in recent weeks. In the last 6 games, he made 06 saves, made 25 saves and blocked 4 goals.
"the clean sheets This is not my achievement, but the Dutchman has always remained humble. "I'm glad I can contribute to the team."
Anderlecht have not lost in their last seven matches. And who would have thought, before the New Year, that the violets and whites would be so close to the European semi-finals?
"We're really in a positive flow," Verbruggen says. "But we haven't reached the semifinals yet, have we? We haven't had that feeling for a second. We still have a decisive duel ahead of us in Alkmaar."
Brian Rimmer also smoothed things over. "There was no celebration in the dressing room yet," said the Anderlecht coach. "We have the best cards for the second game, but we can't get rid of them."
Check out the full reactions below: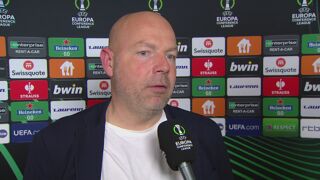 "Subtly charming internet specialist. Avid writer. Friendly alcohol guru. Music ninja. Devoted social media fanatic."