AA Gent can consider themselves lucky that Club have also dropped points. The Buffaloes never got more than a 1-1 draw in Mechelen. The status quo in the battle for fourth place.
Even Gift Urban needs a break now and then. Hein Vanhaezebrouck left the Nigerian striker on the bench and chose Tissoudali as striker. Verstreet returned to Malinois. He had to provide the fighting mentality in the midfield. Something that manager Tim Matthysse demanded before the game after KV Mechelen played without its usual enthusiasm in recent weeks. "I want to see a clear response," he said.
Well, his words got through. KV Mechelen started sharply. Possession was for AA Gent, but it didn't manage to disrupt Mechelen's block for long. A little creativity. Hong remained below par, Tissoudali was still looking, and Samoise made wrong choices on the wing.
She didn't get her first chance until half an hour later. Tissoudali had a free shooting opportunity, but it went too far. There was more to her. The Moroccan himself realized that – he was angry with himself. It looked like we were going to a dismal 0-0 at halftime, but Venom was at the tail end of the first half.
Verstreet suffered an agonizing loss of possession in front of his box – after good pressure from Samoys – after which Tsoudali was able to lash out. His shot was saved by Coucke, but on the rebound put Samoise well inside (0-1). The answer from KV Mechelen is not long in coming. Two minutes later, it ended with a corner kick with Waters, who scored well from the edge of the penalty area (1-1). Nice place, for example.
Well, it should have been better at AA Gent if they wanted to get on the three-point bus. Van Heisbrouck threw Orban into the fray, and Tsodale remained in the dressing room. The Buffaloes have created so many great chances – it was a miracle that no one entered them. Please read along. Kuipers grabbed the ball from Vanlerberge and fired straight at Cook. Five minutes later, Castro Montes was also unable to get past the Mechelen goalkeeper and Cuypers headed wide in reaction. Too bad for the marksman – his killing instinct has let him down. Five minutes later, AA Gent created a hat-trick chance. A header from Castro-Montes was blocked by Coucke, after which Orban and/or Okumu had to tap. Only they kicked to Vanlerberghe – clumsy. Piatkowski's shot didn't hit her either. Malinois has a guardian angel – that shows. What about the opportunities in Mechelen, in your opinion? he was not there. Lots of struggle, yeah. But an attack this immature KV. "Expected goals" says enough: 0.06 vs. 1.66. It also has to be said: AA Gent have accomplished a little in the last half hour.
The Buffaloes can be glad the club stopped drawing on Saturday, at Westerlo. And so AA Gent starts the final day of the regular competition in fourth place. The club is fifth with the same number of points, but one win fewer than AA Gent. Criterion, which should not be forgotten, is sixth, one point behind Club and AA Gent.
Tissoudali: We will not compromise on this again
This can't go wrong again, Buffalo. See you on Sunday, 6:30 PM, at GILLAMCO Arena. Win against KV Oostende in front of your fans (or act like Club) and that top four finish is a reality. This is the only important conclusion after the 1-1 draw in Mechelen. Hein Vanhaezebrouck nodded: "We are closer than last year. Then we were stranded for two days from the end, and now there is one more match left. Hopefully our team can push us to win on Sunday."
Tarik Tsoudali, who took off for the first time since his serious injury, said it like it is: "We can't give this up anymore. And that won't happen against Ostend at home." there he is. But the first confrontation is against West Ham on Thursday in front of 60,000 English fans. Go ahead, AA Gentle. Vanhaezebrouck: "We'll try not to get in too much trouble there. It's going to be a tough game – you can really feel it."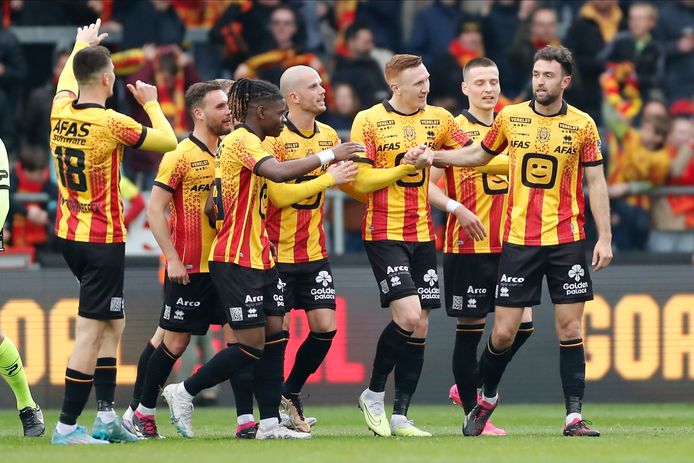 Unlimited free access to Showbytes? Which can!
Log in or create an account and never miss a thing from the stars.

Yes, I want unlimited free access
"Subtly charming internet specialist. Avid writer. Friendly alcohol guru. Music ninja. Devoted social media fanatic."