ChromeOS devices with better specs will now get a Chromebook Plus tag with exclusive functionality and AI features.
Google is promising a higher level of performance with the new Chromebook Plus devices and the associated higher system requirements. The search giant needs this to offer exclusive software functionality and AI components in Chromebooks. The minimum specifications that manufacturers must meet are:
12th generation Intel Core i3 processor or AMD Ryzen 3 7000 series
8 GB of RAM
128 GB storage space
IPS screen with a resolution of 1080 pixels
1080p webcam with noise reduction
Some Chromebooks available today that meet the above specifications will be upgraded with the New Software Experience in the coming weeks.
New and exclusive features
Many new software functions have an AI aspect that can make optimal use of higher system requirements. For example, only Chromebook Plus devices get the AI ​​"Magic Eraser" function in Google Photos to remove people or objects in the background. Other "advanced functions" like HDR effect and brightness boost are now reserved exclusively for Chromebook Plus devices.
The new devices can also rely on artificial intelligence to improve brightness and illumination during a video meeting. You can also blur the background and suppress background noise. It goes without saying that the search giant prefers to use Google Meet, but you can also enable the new features with other video calling apps.
Chromebook Plus devices can also use File Sync, a feature that automatically downloads files within Google Workspace for offline work. Hence the high storage requirement of 128GB.
Features of artificial intelligence in the future
Future updates are planned for Chromebook Plus eligible devices. For example, you want to render backgrounds in Google Meet via generative AI and eventually the AI ​​writing assistant should also be available to take notes via right-click.
Other details known today include enabling dynamic wallpapers (four times daily) and even AI-generated wallpapers where the user can fill in a set of parameters.
Compatible devices
At launch, four brands did their homework on compatible devices. This relates to a total of eight devices which you can find below.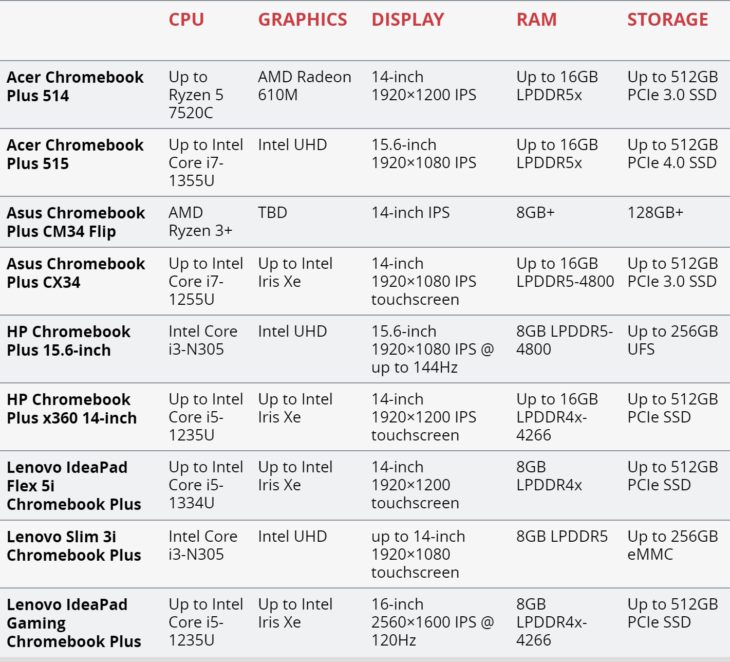 Prices range between 450 and 800 euros excluding VAT. The new Chromebooks will be available starting October 8. Existing devices that meet the system requirements can also expect an update around that time.
"Thinker. Coffeeaholic. Award-winning gamer. Web trailblazer. Pop culture scholar. Beer guru. Food specialist."