After Lenovo and Asus, HP is now also moving towards producing a foldable laptop. The HP Specter Foldable PC is set to become the first "3-in-1" PC. It will cost you not one computer, but two arms and legs.
love Takes Today with the Specter Foldable PC. As the name suggests, it is a foldable laptop. HP follows in the footsteps of the Lenovo Thinkpad X1 Fold and Asus Zenbook Fold. The manufacturer doesn't shy away from big words because HP claims its latest masterpiece is a "3-in-1" PC that can easily switch between a laptop or tablet, but can also be used as a portable desktop.
In terms of form factor, the HP Specter Foldable PC is most similar to the Asus model. HP also puts a 17-inch OLED display into the chassis, which you can use at full size as a tablet with the stylus attached. If you fold the screen in half and place the keyboard on the bottom half, you'll have a 12.3-inch laptop. This HP laptop is the thinnest at 1.3kg.
A screen and a half
There are still a few rabbits in the top HP hat. The chassis also has a foldable backrest so you can adjust the screen vertically or horizontally. The keyboard can also be connected to the monitor via Bluetooth without having to make a physical connection to mimic the desktop computer experience.
Perhaps the most useful trick is in laptop mode. You can move the keyboard into the bottom half of the screen to free up additional space, so you have a "screen and a half," according to HP. HP wants to make optimal use of Snap functionality in Windows 11 with this mode. The idea is that you can put your mailbox or chat windows away in the additional screen that becomes available. This way you can stay on top of incoming emails and messages without them taking you out of your workflow.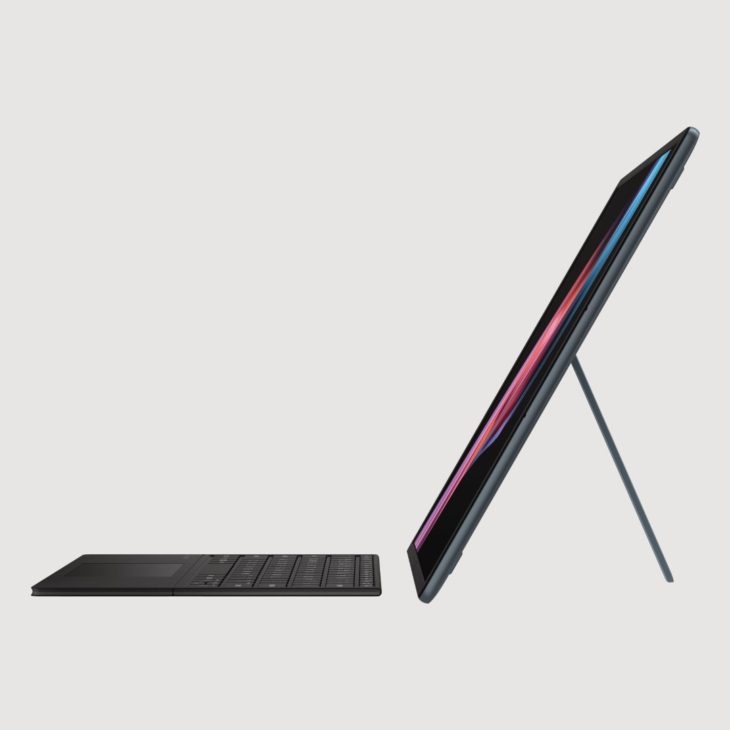 A roundup of specifications
The innovative foldable factor is a nice bonus, but HP also ensures you get a complete business laptop with the Specter Foldable PC. The OLED display has a resolution of 1920 x 2560 pixels and a claimed brightness of 500 cd/m². HP also includes two Thunderbolt 4 ports with USB-C connectivity and a 5-megapixel webcam in the chassis.
Read also
HP Dragonfly G4 review: Small-bezel beauty
The processor is Intel Core i7 with integrated Iris Xe GPU. With 16GB DDR5 RAM and 1TB PCIe NVMe SSD storage, you shouldn't be short of "everyday use" computing power. HP claims the battery lasts twelve hours in laptop mode and 11 hours in desktop mode. You can also rely on software support that HP provides for its business models, such as Wolf Security Center.
Arms and legs
HP has clearly analyzed what Lenovo and Asus did well and didn't do well with foldable laptops. The HP Specter Foldable PC seems to have everything it takes to make a big impression and make first impressions Engadget, who have already received an exclusive beta, seem very excited. Sit down now, because one thing is for sure: the price.
HP is putting a price of $4,999 on the laptop in the US. That's almost twice the size of the Lenovo Thinkpad X1 Fold and also much larger than the Asus Zenbook Fold. The high price of foldable models is one of the main reasons why foldable laptops have not achieved a real breakthrough (although the flagship models have obvious drawbacks).
HP doesn't seem to change this right away with the Specter Foldable PC. High prices are also a constant with foldable smartphones, although we're not too surprised when we see them on the street.
Read also
Samsung Galaxy Z Flip 5 review: Will the larger cover display remove our last doubts?
US customers can pre-order the laptop starting today. The first deliveries will take place in October. We've inquired with HP about pricing and availability in the European market and will update this article as soon as we have more information.
"Thinker. Coffeeaholic. Award-winning gamer. Web trailblazer. Pop culture scholar. Beer guru. Food specialist."