Samsung announced the fifth generation of foldable Galaxy phones: Galaxy Z Flip5 and Galaxy Z Fold5. Sleek, compact designs deliver unique experiences for every user, with endless customization options and powerful performance. The new Flex Hinge technology not only makes the devices foldable, but also provides a durable, aesthetically balanced design with unique camera options like FlexCam, to capture photos from creative angles. With powerful performance and enhanced battery powered by the latest processors, the Samsung Galaxy Z series pushes the boundaries of smartphones – both open and closed.
"Samsung is revolutionizing the mobile phone industry with its foldable devices, by setting standards and constantly improving the user experience," says Davey Munns, Mobile Marketing Manager at Samsung Belux. "Every day more people choose our foldable products because they provide an experience that people want and can't get on any other device. With the Galaxy Z Flip5 and Galaxy Z Fold5, we are demonstrating our commitment to meeting our customers' needs through innovative technology.
Samsung's long history of innovation and focus on foldable devices has resulted in incredibly versatile devices. With a strong belief in the potential of foldable devices, combined with world-class R&D and manufacturing facilities, Samsung has constantly improved and improved the Galaxy Z lineup. This lineup of foldable Galaxy devices meets and exceeds the specific needs of today's consumers, starting with content production on the new Flex Window on the Galaxy Z Flip5 and even seamless multitasking on the Galaxy Z Fold5.
What's more, both the Galaxy Z Flip5 and Galaxy Z Fold5 are carefully designed to meet expectations of durability. The main display is equipped with a shock dispersion layer and a redesigned back for a more solid display. Both the flexible window and back are IPX8 certified and feature Armor Aluminum frames and Corning® Gorilla® Glass Victus®2. – Strength is further improved by the flexible hinge. This new compact hinge unit has a double barrier structure that absorbs external shocks.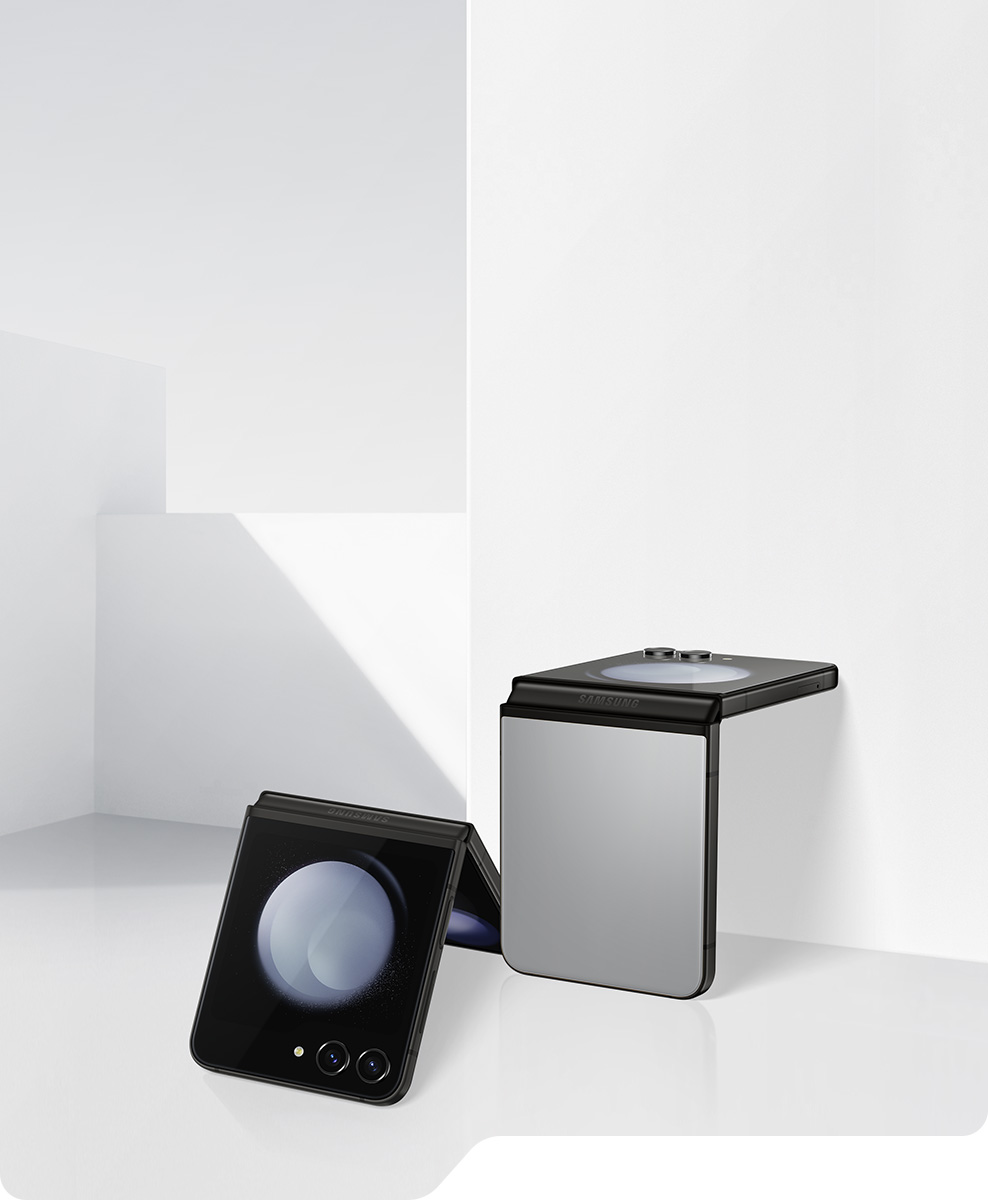 Galaxy Z Flip5: The perfect pocket-sized tool for self-expression without compromise
The new flexible window, which is now 3.78 times larger than the previous generation, provides a wide range of existing and new functions. More customization options, including stylish bezels and informational and graphic clocks that you can match to the watch design of the Galaxy Watch6 Series. Additionally, the new Galaxy Z Flip5 Flipsuit offers protection with a removable NFC tag and lets you match the Flex Window design and case design for even more customization options.
When folded, the Galaxy Z Flip5 offers greater usability than ever before. This gives you quick and easy access to useful information through the Flex Window. The widgets allow users to check the weather, play your favorite music with the Media Controller, or stay on top of global stock market updates with the Google Finance widget. You can easily view all the widgets at a glance or switch directly between widgets using Multi Widget View, which you can activate with the push of a button on the screen. Moreover, you can easily check notifications and access quick settings for Wi-Fi or Bluetooth. Without unlocking the device, you can browse the call history and return missed calls. Reply to text messages on the go with Quick Reply, which offers a full AZERTY keyboard and displays your chat history.
With its unique design, the Galaxy Z Flip5 offers the most versatile camera among all Samsung Galaxy smartphones. Take high-quality selfies with the rear camera, thanks to the larger flexible window. FlexCam lets you take amazing hands-free photos from creative angles. In Flex mode, you can view and edit recordings quickly and easily. With Quick View in the Flex Window, you can easily view images, adjust color tones, or delete images. When you take a picture of your friends, they can see themselves with a double preview in the flexible window, so they can adjust in real time to get the perfect photo. On the go, users can take a smooth shot using Super Steady camera stabilization while auto framing ensures no one is left out.
Galaxy Z Flip5's powerful camera makes improvements with AI solutions, bringing every photo to life. Unleash your creativity even in low light with Enhanced Night Shooting, which improves photos and videos in ambient light. An AI-powered Image Signal Processing (ISP) algorithm corrects all the visible noise that normally ruins images in low light, while improving detail and color tone. Even from a distance, images are clearer thanks to the 10X digital zoom.
Galaxy Z Fold5: The ultimate big-screen productivity powerhouse
The thinnest and lightest phone ever, Galaxy Z Fold5 features an impressively large display and long-lasting battery. It's easy to carry anywhere and delivers the most powerful performance in the Galaxy Z lineup.
The Galaxy Z Fold is a pioneer in transforming everyday productivity with its large display, which in addition to multi-window and app continuity, provides a wide range of functions including taskbar, drag-and-drop, and third-party app optimization. The S Pen Fold, introduced with the 3rd generation Fold in 2021, has been further enhanced to deliver a superior writing experience on the Galaxy Z Fold5. These functions and tools come together to provide unprecedented productivity on a big screen that allows you to complete important tasks from anywhere.
The enhanced taskbar ensures dynamic productivity by allowing you to quickly switch between frequently used applications. Up to four modern apps are now ready to work more efficiently. Improved drag and drop can increase productivity when moving content between apps and screens. Tap and hold a photo in Samsung Gallery with one finger. Then use another finger to open the Samsung Notes app and drag and drop the image. A hidden popup allows the app to continue running in the background, allowing you to watch videos in full screen mode while chatting with friends in a floating popup on the side of the screen.
With the new, thinner, more compact S Pen Fold that fits more comfortably in your pocket, taking notes and thinking in real time is easy. The Slim S Pen case is about the same thickness as a regular case for the Fold, and is available in different styles and colours, so you can carry your S Pen with style.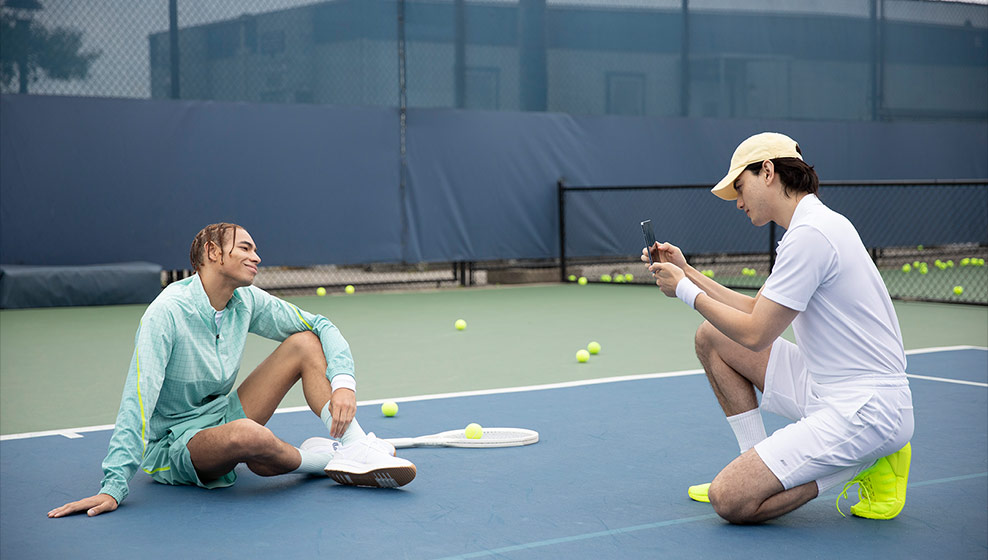 The 7.6-inch main screen helps you get more done on the go with an expansive, uninterrupted view, so you can enjoy your favorite movies in portrait or landscape orientation. In addition, the peak brightness has been increased by more than 30%, to 1750 nits, for an optimal outdoor viewing experience, even in bright sunlight.
The Snapdragon® 8 Gen 2 mobile platform for Galaxy delivers an immersive gaming experience on the largest Galaxy smartphone display ever and uses AI to enable dynamic gaming and multiplayer. The Galaxy Z Fold5 can handle long gaming sessions with ease thanks to an advanced cooling system that dissipates heat more intelligently. This way you can play with lower lags and without losing performance.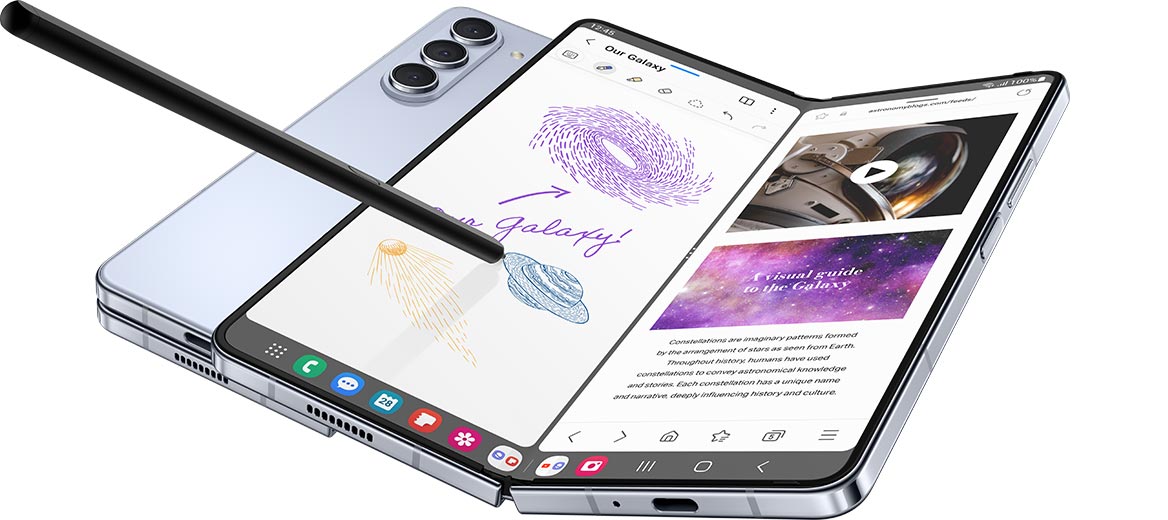 Positive impact on the planet
Samsung continues to make progress in sustainability and accelerate actions that will help achieve its goals, such as achieving net carbon neutrality by the end of 2030 for its device experience division.
Galaxy Z Flip5 and Fold5 contain a wider variety of recycled materials than previous generations, including pre-consumer recycled glass and aluminum and post-consumer recycled plastic from discarded fishing nets, water drums and PET bottles. Even the paper used in the packaging box is made from 100 percent recycled materials.
These innovations are purposefully engineered to ensure optimal longevity. Each device comes with five years of security updates and four generations of operating system upgrades, extending the product life cycle.
"Thinker. Coffeeaholic. Award-winning gamer. Web trailblazer. Pop culture scholar. Beer guru. Food specialist."