Racing Genk was unable to overcome a cup defeat to Club Brugge during his visit to Mechelen. He went ahead at the start of the first half and after that hardly played anything against Michelin with ten men. In the ranking, Michelin tied for fifth, and Genk for eighth.
Mechelen – Jenk in a nutshell

Key moment: Deep into the overtime, Genk finally took a real chance against the Ten Brawlers of Mechlin. Thoelen hit Thorstvedt's header out of the line and so Achter de Kazerne stayed at 1-1.
man of the match: Marian Sjvid breathes life into a watered-down game. Unfortunately, the energetic Ukrainian had to make way after Cook's dismissal. Franken may have chosen tactical discipline over the risks Sjved faced in pushing.
Special: Genk makes it this season's sport to break up a winning starting position. Ten times already he couldn't get past the lead. The Limburgers have played only 27 games in all competitions. hallucination.
Watch KV Mechelen – Genk (1-1) goals

Boom Van Bungonda puts Genk ahead

The cup match earlier this week left its mark on Micklin. The absence of Vanlerberg, especially the accelerator Schauf, meant a great loss for the home team. At Genk, overburdened Eto'o was on the bench and allowed Owen to prove himself between the lines.
Visitors began lively with a play by Paintsil, who forced Coucke to tackle a place ball. Mackenzie was unable to extend the angle between the columns a little later. KVM replied, fed by a particularly keen Sjved. At first he grabbed the ball to give Mrabeti a good chance and then slipped very late after a Walsh cross.
The stellar opening quarter didn't last. The match continued, until Sejvid again set fire to a sharp shot. Paintsil answered for Genk. His passes flipped past Coucke, but Thorstvedt missed the ball from very close. Genk's counter was hit after all. Coucke made the first tackle, but there was no powder against Bongonda's streak.
Thorstvedt forgets to touch the ball from close range

Ten men from Mechelen scored a tie

Genk has often given up on top this season and they knew that well at Mechelen. Early in the second half, Walsh rushed through the inevitable storm and shot the ball into the roof of the goal. VAR and referee Ardot were still considering a possible violation by Hrusovsky, but they confirmed the score 1-1.
Genk was able to start over, but unexpectedly received help. Coucke came very bold from his goal to blow up Thorstvedt. Lardot initially showed the former Genkie yellow, but changed that to red after a thorough review of the footage. Van den Brum threw Ito and Onwacho into the fray, while Franken sacrificed Sjevied for Thueln and pulled a reinforced belt for his reserve goalkeeper.
For more than half an hour, the Limburger family remained in front of a closed gate. In Malinoa they ran out of fire to hold on to the point. For a long time, the only danger was a choked shot from Onuachu. Micklin shouted on the other side for a penalty when the ball flew against Lokumi's arm. The last seven minutes of extra time could prove fatal to the hosts. Thorstvedt's header hit a tricky corner kick, but Thoelen had a great reaction ready. In the recoil, Onuachu cut in half.
Another loss of points after the lead and against a lesser man could spell the end of the journey for John van den Brum at Racing Genk. His team remains in the middle category, while KV Mechelen maintains himself in the leading group.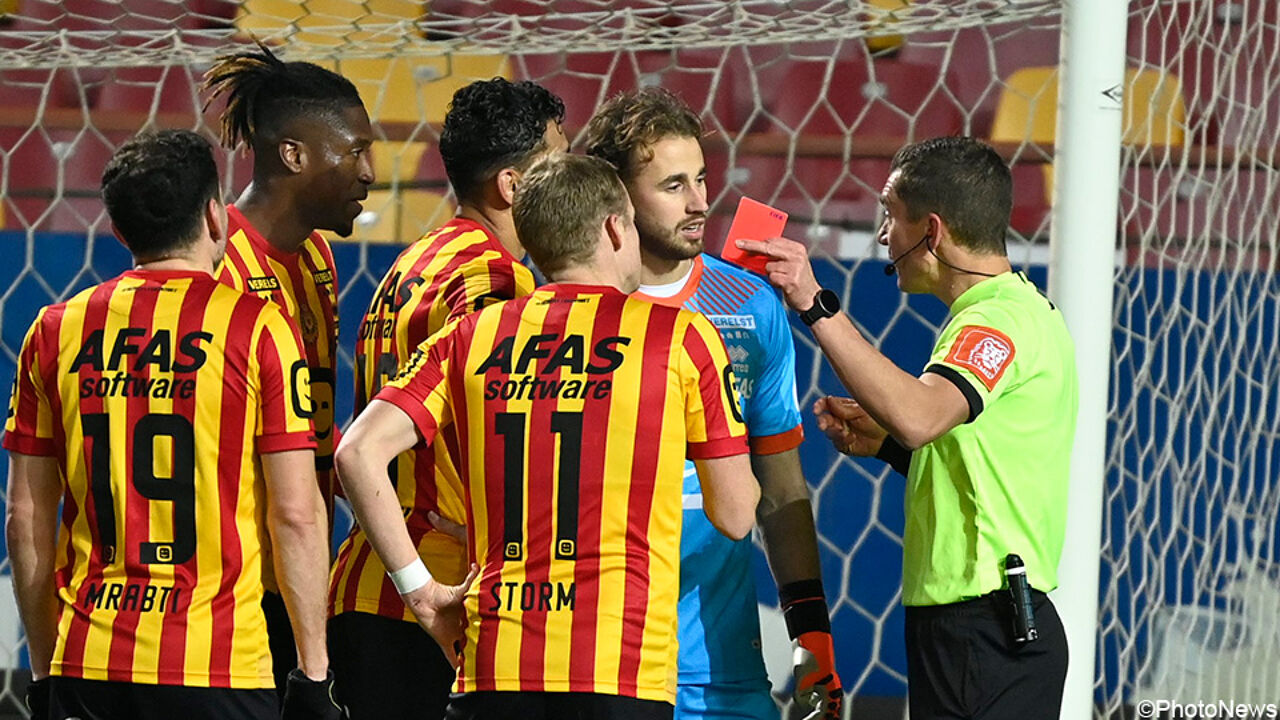 Wouter Franken: 'He should have gotten a penalty'

John van den Brum (Racing Genk coach): "KV Mechelen is a tough move, but in the first half we played well and deserved to go ahead. KV Mechelen couldn't understand it and we created chances. Nothing seemed to be wrong."

"During the first half we said to continue at the same pace, but it wasn't the case. We came out of the dressing room a little lower and that gave KV Mechelen a chance to score a goal. My team reacted well. We kept fighting to score the winning goal."

"We had to play a much higher tempo against ten players and we had to play the right people on the side. Also with Onwacho – we all know his qualities – as a substitute we should have played it better. It starts with the pace of the ball to make good crosses. We failed that."

Does John van den Brum feel the pressure is building? "It was already the case before the match, it was no different now. As a coach, I have to state what I see: we have to provide more conviction to attract the match to us. This is the next step. I can." I don't do anything other than what I do."

Wouter Franken (Coach KV Mechelin): "I think we're playing a good game, especially when you see that we've been playing with scores for about 40 minutes and we're missing almost no chances. Then I did a good job."

"He insisted we should have got a penalty. That's very unfortunate. There wasn't even looking at the screen with that handball, while it was clear to everyone that it must have been a penalty. If you then look at the track from the match look, you have Only 3 points here, even with 10 guys."

Substitute goalkeeper Yannick Thoelen was able to distinguish himself after the red card from Gaëtan Coucke with a superb save in overtime. "We know we have two good goalkeepers. Yannick still has a lot of ambition and he has shown today that we can count on him. He was there when he should have been."
Where are the chances of Genk Eleven?
"Subtly charming internet specialist. Avid writer. Friendly alcohol guru. Music ninja. Devoted social media fanatic."