Club Gewalt has been around for 10 years, but the theater collective isn't celebrating the birthday of the shy circle. On the contrary: the company amplifies the argument. What exactly happened is still unclear, but the clash revolved around racism. As one actor notes with astonishment: this theme seems to have played a part in their crowd, though they are all well-educated and left-wing stage-makers.
Artist Amir Wahidi is disappointed in his friends. During a visit to Berlin, someone treated him on a racist basis. Waheedi entered the discussion. The others were silent, and "silence is the language of the oppressor." On the ground we see documentary-like images, fragments of later talk about the controversy.
The following is a violent exposé on privilege and institutional racism directed by Khadija Al-Kharraz Alami. The birthday party hands out plenty of congratulations to the audience, who are seated in stands around the stadium: "Congratulations you can see this." "Congratulations on being able to vote" and "Congratulations on having a constitution that protects you." You're in luck, those wishes seem to say: Realize that not everyone is so privileged.
Read also: Club Gewalt tackles climate depression with musical theatre

confrontational questions
You are constantly confronted with your position in society and your position in relation to others. This most certainly happens when you have to respond to phrases by standing up or, conversely, by remaining seated. Sometimes simple (yet confrontational) questions like "Was there enough money in the house before?" But it's also about a broader perspective. For example, do you like your colleagues?
These reflective moments are embedded in a crushing performance of hypnotic motivational compositions by Vahidi and Robbert Klein. Like is, among other things, a song about the discomfort surrounding discrimination. "I feel strange," the players chanted, "I feel uncomfortable." Pulses vibrate in space, a stroboscope flashes and sounds continue to boom out rhythmically. It looks like a ritual in which something is forbidden.
Tenth anniversary disables. The performers walk around with a microphone and push through the spectators. "Stand up if you think racism is a white problem," he said. And then: "Whoa, if you have a racial role." Part of the audience leaves their seats in doubt. The performance expresses anger, but remains respectful and light-hearted at times. As a spectator, you are lost in thought. So as not to be silent on the next circle's birthday, when this uncle will shout something racist again.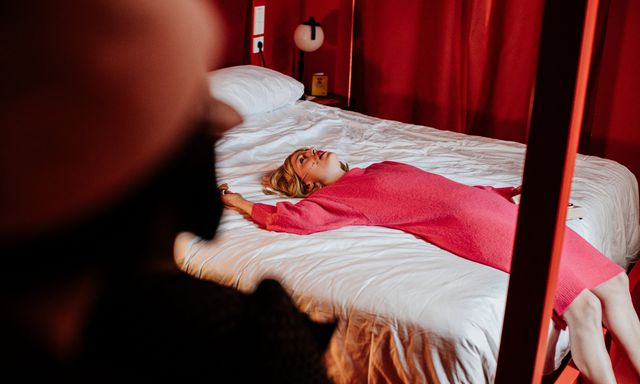 Read also: O. Festival: Hypnotic Melodies and Drag Queen Scene

"Total coffee specialist. Hardcore reader. Incurable music scholar. Web guru. Freelance troublemaker. Problem solver. Travel trailblazer."