In response to the video in which two stylish Knokke ladies share their unflattering opinion about Frigo Box tourists, Knokke Vlamynck Bakery has launched a stunt. Customers who enter the store wearing shorts with a refrigerator box on Saturday, August 26 will receive a gift. "We received an e-mail from a woman from Antwerp who will come to our shop by train because she is sympathetic to our initiative," says the baker's wife, Anne Deslovery (47).
A video broadcast by De Telegraaf, in which two women express their frustration with visitors who come to the seaside resort in shorts or with a fridge box, has apparently caused quite a stir. The managers of the Vlamynck bakery in Parmentierlaan believe the playful duo have created a false image of Knokke-Heist with their statements. "Our shop is in Knokke Dorp, because don't forget that our municipality also includes Westkapelle, Heist, Duinbergen and Ramskapelle. Our customers are common people, second homes, not snooty. Our prices are sometimes cheaper than those of local bakeries. If only these ladies would like In elegant people, they should go to Zoute. But I also don't claim that all Zoutenes are arrogant. It is wrong to categorize people."
frigobox review
"If a family is less fortunate financially and they bring a box of fridge on the train, I don't think that's a problem. Those people might also come to Knokke-Heist. They might not buy anything, but next year they might spend the weekend in a hotel here if Things were going a little better for them financially," says the baker's wife.
We first want to tell the outside world that people in Knokke-Heist cannot be left out

Baker's wife Ann Deslovery
This work was widely acclaimed. "Almost all of our customers welcome the fact that we have the courage to make a statement that our seaside resort is accessible to all. We even received an email from a woman from Antwerp who would come to our shop by train to buy breakfast. She said she sympathized so much with our initiative that we dare to stand against the statements of these two elegant ladies." .
(Continue reading below the image)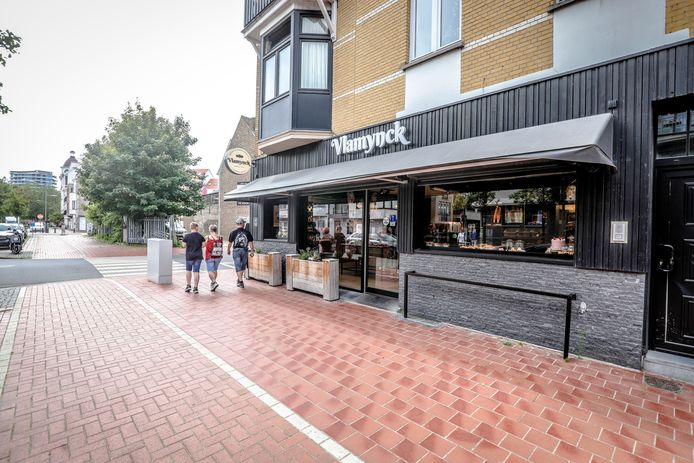 It is believed that the naked upper body or swimming trunks are not allowed on the shopping streets. But she thinks the comment about the shorts is completely misplaced. "We shouldn't be judging what shirt or shorts people should wear. If we want to put everyone in the boxes, I think we're doing it wrong. We basically responded from that vision. Because who's the next group of people who won't be welcome here? anymore?"
No publicity stunt
The bakery is expecting more customers on Saturday, because since the social media announcement, the promotion has started to catch on in earnest. "This is of course a nice bonus, but it's not a publicity stunt. We first want to say to the outside world that people in Knokke-Heist cannot be left out."
And what will be the gift? "I don't want to reveal that yet, but there will be a clear link to our motto 'everyone is welcome'," Ahn concludes.
Also read:
Weren't the "Fantastic Ladies" wrong after all? "Everyone is welcome in Knokke, but we ask for courtesy" (+)
15,000 people already want to go to Knokke 'in shorts or with a fridge box' after a viral video of two residents
Surprise for the Belgian Beach Flower Industry Championship in Knokke: "This should become an annual event in our coastal city from now on" (+)
Unlimited free access to Showbytes? Which can!
Log in or create an account and never miss a thing from the stars.

Yes, I want unlimited free access
"Friendly communicator. Music trailblazer. Internet maven. Twitter buff. Social mediaholic."