Much-discussed Russian General Sergei Surovikin, one of the symbolic leaders of the Russian offensive in Ukraine who was dismissed over his links to the Wagner Group, has reappeared in Algeria after months of absence on the occasion of an official visit. It is not clear in what capacity and why the Russian was there.
In photos published on Tuesday on the Facebook account of the Grand Mosque in Oran, but which did not appear in Russian media until Friday, Surovikin appears in beige civilian clothes next to Russian officers in military uniform and the imam of the mosque. She added, "A high-level Russian delegation visited the mosque and was received by the Director of Religious Affairs and the Imam." The purpose of the visit to Algeria was not determined, and Moscow did not communicate about the matter.
Lots of speculation
There has been much speculation about Surovkin's fate since he disappeared from view following the failed uprising of the notorious Wagner mercenary group in June. Surovikin had close ties with Wagner and is said to have had advance knowledge of the plans of Wagner's now deceased boss Yevgeny Prigozhin to organize armed rebellion. Therefore, it has been speculated that Russian President Vladimir Putin may have punished him for his possible involvement. During the uprising itself, Surovikin called on the rebels in a nervous video to "stop before it's too late." This was the last time he was seen anywhere.
look. Surovikin calls on Wagner's fighters to end their uprising: real or pretend?
Five days after the Wagner Mutiny, several media outlets reported that the Supreme Commander had been arrested. He was reportedly detained for several days and interrogated about his relationship with Prigozhin, but not in prison. According to various Russian media outlets, the Russian has finally been officially dismissed from his position as Commander-in-Chief of the Air and Space Forces after two months of mutiny.
Last week, according to unconfirmed reports, Soryvikin was suddenly seen in Moscow for the first time since the Wagner Mutiny. "He is alive and well," he said, and now he has officially reappeared.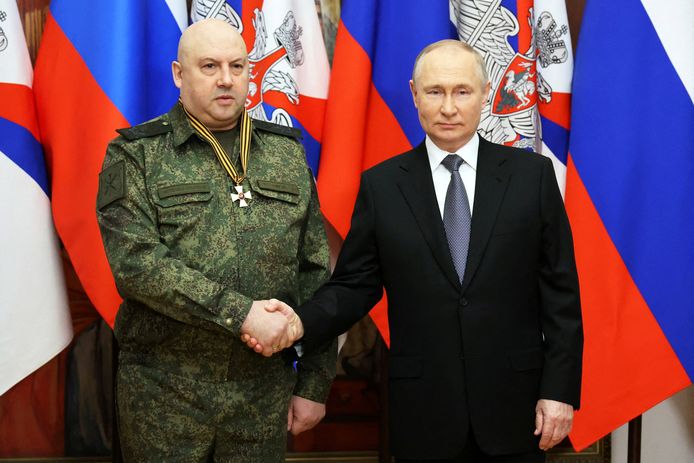 "General Armageddon"
Surovikin was one of the main leaders of the Russian military intervention in Ukraine. A veteran of the Soviet war in Afghanistan and the Second Chechen War in the 2000s, he also took part in the Russian campaign in Syria in 2015. Surovikin – who earned the nickname "General Armageddon" for his aggressive actions in Syria and Chechnya – took charge . Russian forces in Ukraine in October last year. Three months later, he was relieved of his duties and became commander of the Russian Space Forces.
Russian weapons
It is not clear what position Surovikin would have been assigned now. Russian sources said only that he arrived in Algeria accompanied by a high-level delegation from the Russian Ministry of Defense. Various media outlets indicate that Algeria is considered a major buyer of Russian weapons.
Watch also. Incredible pictures show how President Wagner Prigozhin's plane crashed
Free unlimited access to Showbytes? Which can!
Log in or create an account and never miss a thing from the stars.

Yes, I want free unlimited access
"Creator. Award-winning problem solver. Music evangelist. Incurable introvert."