Brad Carlinghouse, CEO of Ripple, advises developers of crypto projects against establishing themselves in the US, specializing in blockchain technology to make transactions faster, cheaper and more efficient.
This is because the world power currently lacks clear regulations around digital assets such as crypto-currencies, which creates a lot of uncertainty. Ripple has also faced issues with their XRP token in recent years.
As a speaker at the Token 2049 conference in Singapore, he expressed his displeasure with the ambiguity surrounding crypto regulation. He said the US is currently the only country where you shouldn't set up a crypto-based company.
"The only country I wouldn't encourage you to start a company in right now is the United States."
The entrepreneur advised startups to look at jurisdictions with smart and sound policies around crypto. For example, you can go to England, Singapore or Switzerland.
The War on Crypto
The US stock market watchdog is waging a war against the crypto world against the likes of Ripple, Greyscale, Binance and Coinbase.
The SEC (Securities and Exchange Commission) is joining forces with the CFTC (Commodity Futures Trading Commission) to protect and regulate the digital asset industry, but according to many, it's not doing so well.
Instead of laying down clear regulations, the main way this happens is through lawsuits against wrongdoing. For example, Coinbase and Binance have been accused of violating federal securities law and fraud.
Ripple was also sued for selling their XRP token as a security, but the case was won by Ripple. The SEC has now filed an appeal against the major fintech company.
Asset manager Grayscale has also won a lawsuit against the SEC over spot bitcoin ETFs. According to Carlinghouse, this shows that the mindset of the US legal system is changing for the better.
"I think you see a rapid change. I think a lot of judges say, 'Well, the SEC is always right,' and they don't fight it, but I think you're starting to see a paradigm shift.
The crypto industry has been at odds over crypto regulations in the US for some time. Many lawmakers are disaffected and fear a potential exodus from the country's financial markets.
Carlinghouse and Coinbase CEO Brian Armstrong want to position themselves in other countries that support rather than stifle progress in crypto.
New developments in spot bitcoin ETFs
OKX CEO Hong Fang worries that the crypto industry is not ready for a spot bitcoin ETF. According to him, this would be a big improvement, but there is uncertainty about the custody and liquidity of the top-tier crypto.
Fang says investors are not ready for Bitcoin (BTC) storage solutions because most of the technology is still new and untested.
"I think there are a lot of issues with management. The question I'm asking myself is whether our department is really ready for it."
Hong Fang advises crypto investors to focus on what they want Well done These uncertain times can be checked on the regulation of crypto.
"We can control what we can control, which means building the right product and focusing on technology and supporting responsible regulation.."
According to Fang
"Bitcoin on BNB" – Bitcoin Alternative
A very notable Bitcoin exchange recently ended up in presale. We are talking about the Bitcoin BSC coin that has already accumulated more than $ 1.5 million in assets.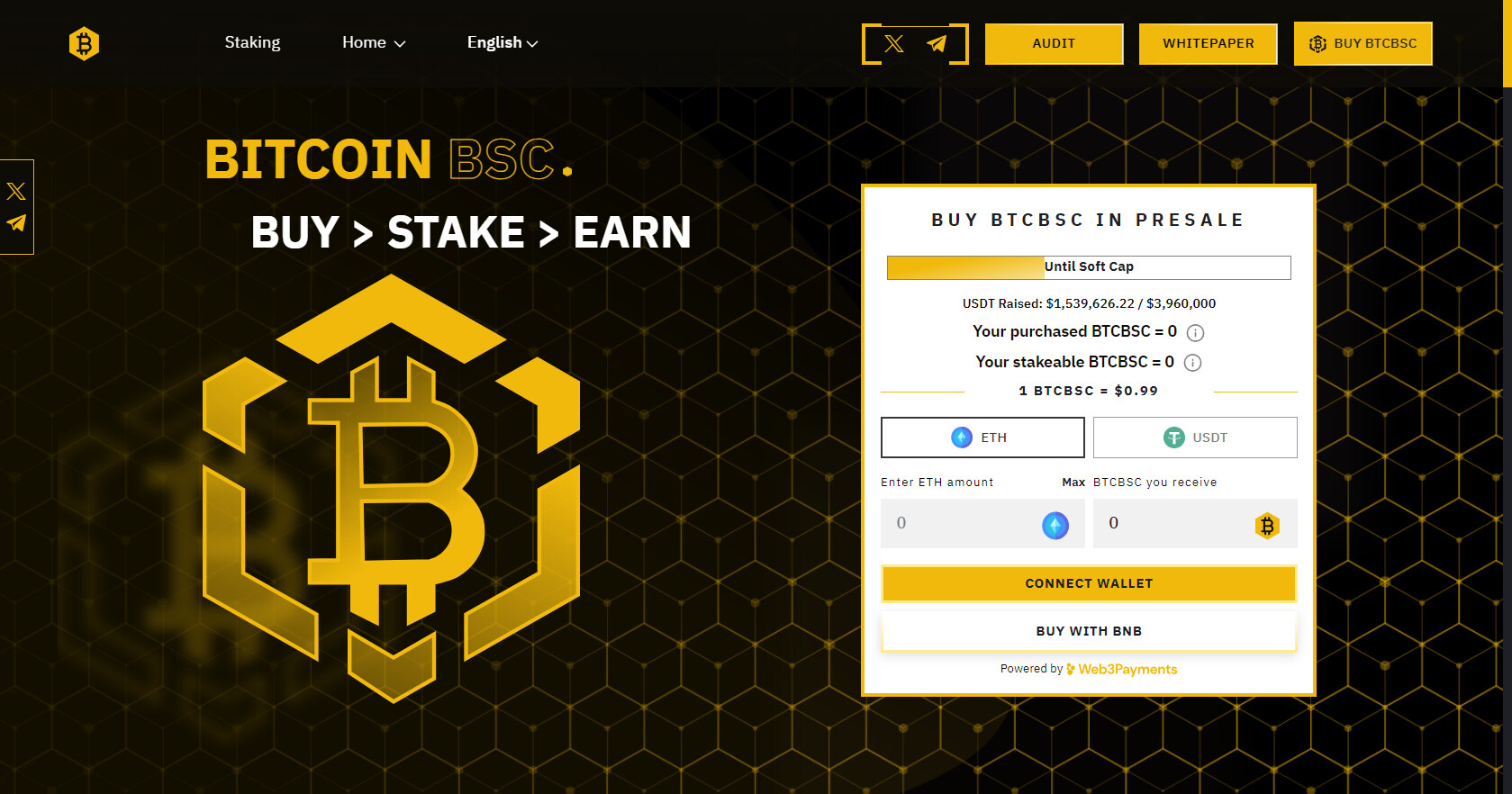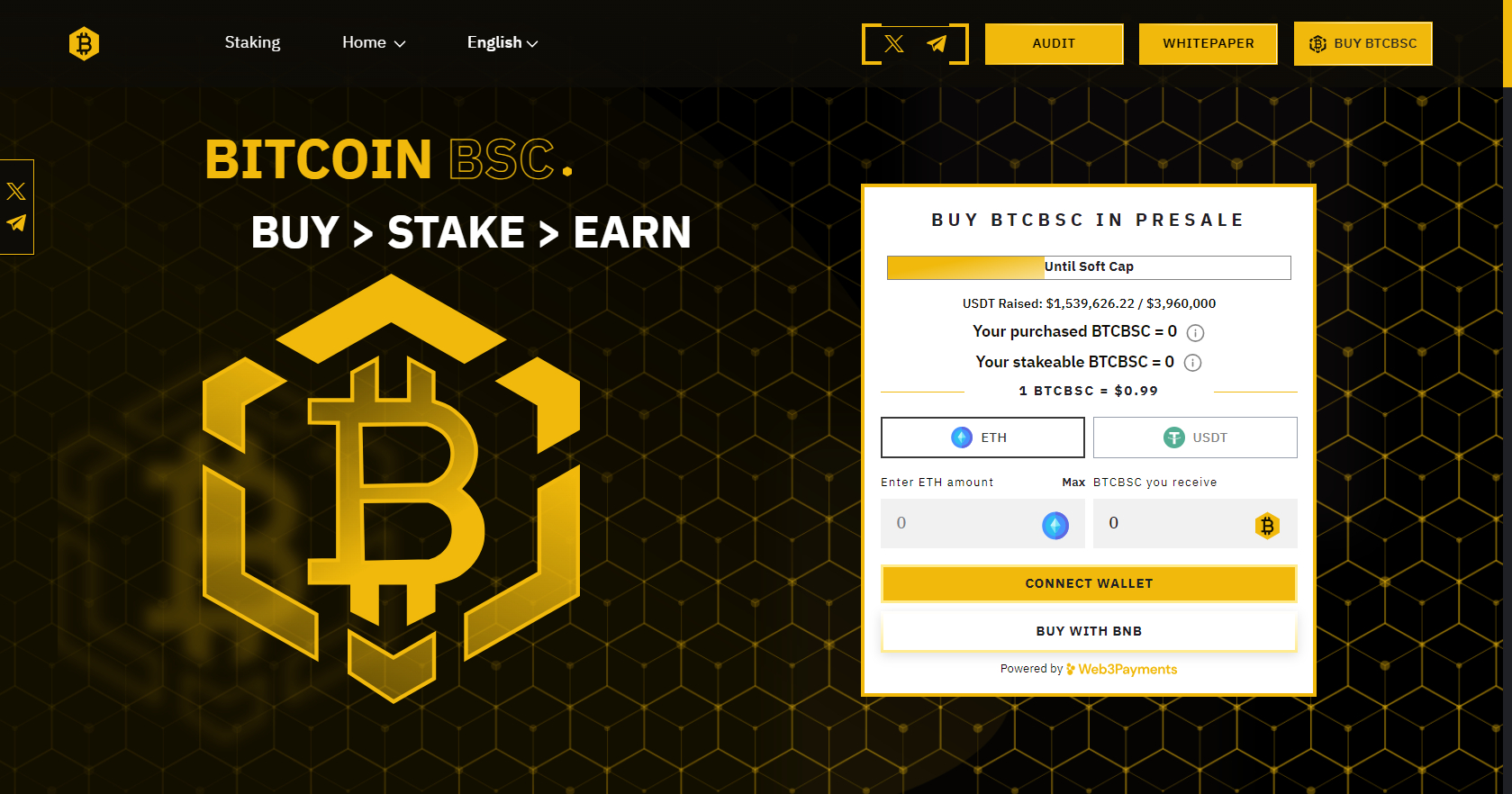 Because BNB is built on a smart chain, this coin has attracted much attention as an alternative to Bitcoin with better characteristics than the original. This makes transactions even faster and cheaper than the Ethereum network.
Bitcoin BSC wants to take you back to 2011 when Bitcoin was on sale at $0.99. There are only 6.1 million coins available, which means $6.1 million in hard capital. This means that BTCBSC has a lot of potential to continue to grow.
A total of 21 billion tokens have been minted in this currency, the same as in Bitcoin. Another 14 million can be obtained through a staking pool added using smart contracts.
In this way, 'mining' this bitcoin is environmentally friendly unlike the original and you can even earn a passive income with it. Don't miss this opportunity, invest in this new promotion before it's too late.
Disclaimer: There are many risks associated with crypto. This article is intended not to be investment advice. You could lose your investment, so always do your own research.
"Passionate analyst. Thinker. Devoted twitter evangelist. Wannabe music specialist."