While Belgian King Philippe is on mission in South Africa, there is also time to relax and eat good food. He will find the latter tomorrow with HLN President Piet Huysentruyt, who lives in the country. Together with South African chef Robin Rivell, he presents a royal menu. "They didn't have to ask me twice," Huysentruyt says enthusiastically. He shares the exclusive list with HLN and how the preparations really went.
"It hasn't been on my bucket list, but of course cooking for the King is something you've always dreamed of. Just like Metallica or Foo Fighters. Admit it, that list looks great on your resume, doesn't it," Huysentruyt proudly told HLN three days before the event. Receiving the king as a guest of honor at his table. "And, frankly, I would have thought it very unfortunate that they would ask someone else in this country," he says.
Together with fellow South African TV chef Robin Revel, he put together a menu last week in which Belgian cuisine and South African culture fuse beautifully. "It wasn't easy," Pete laughs. "Cape Malay cuisine is very spicy, which sometimes clashes with the more robust Belgian flavors. Moreover, a number of typical ingredients such as North Sea prawns, eel or chicory are not available here. We needed a lot of rosé to come up with this definitive menu. This is it. The way I put it in my list proposal to the consulate." (He laughs)
Nervous about the service
Can the chief keep his nerves in check for the king? "You only experience this once in your life. If I get a chance to do something I've never done before, I'll always take that opportunity with both hands. I'm always nervous about serving. It's my way of making my team feel: we have to be smart and everyone has to be Something down to the last detail. For the King, this is no different from any other service."
What worries a West-Flemish chef upfront: protocol. "I knew in advance that we as chefs could welcome the king, so our hands are the first to get it. I ran through several scenarios in my head. Here in South Africa they pat each other on the back. That's not the intention now," he laughs. "I prefer creating the front page. With my good list."
What's on the list?
How to start a lunch menu for the royal palace? We started with three snacks from South Africa and three snacks from Belgium. Bitter sheep tail, springbok samosas and smoked pike cake represent the spicy cuisine of Cape Malay. For the Belgian cuisine, I opted for the elegant version of a sandwich with minced meat, a snack of mussels with baby potatoes from Likoké and a Brussels waffle in the form of mushroom croutons. "



Since we don't have eel here, we served this dish with the local fish 'kingklip' ​​in green. Perfect for "King Filip".

Hosentroit House
For the rest of the menu, the two chefs chose a fusion between the two cuisines. "The biggest challenge here was not letting the Belgian cuisine get sidetracked by the strong spices of the South African cuisine. As a starter we opted for a Cape Malay salad with mango, pepper and coriander. Something fresh and spicy. I also wanted eel in green, so we combined this preparation with local fish" kingklip "Perfect for King Philip," he winks. "We also offer one perfect Belgian potato. One thickly breaded in panko."
For the main course, the two chefs chose two typical dishes, both of which exemplified the status of "national comfort food". Chose Robin Bobotie, a South African minced meat dish. This is heavily spiced with curry and turmeric. It also contains raisins and apricot jam, topped with a kind of flan. A good match for this dish was the vol-au-vent. Truly Belgian, as it is popular both in Flanders and Wallonia. My late mother always finished this off with a bit of curry, as if she predicted I would need this one day. For meat, we chose ostrich neck: a typical African stew. I don't think anyone in Belgium has eaten this version before," he proudly declares.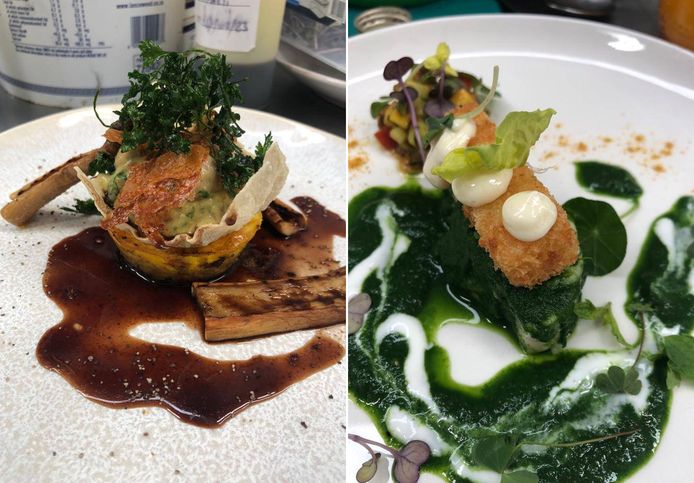 As for the wine: again a nice combination. The choice fell on South African wines from Belgian winegrowers. "Colmant, Tempel Wines, Almenkerk and Hasher: all Belgians who run a wine farm here. A good match with the economic part of the royal mission."
Finally, dessert: Belgian dishes are allowed to show off. Peskov-ice, PeskovCrunch and chocolate sauce callibut To go along with that other classic, Lady Blanche. "I keep my dame blanche simple, according to the traditional recipe. That's mine enough! Koesister, on the other hand, is a typical South African dessert: a kind of beignet. Traditionally wrapped in coconut, but now finished with spicoff biscoff. My local friends make Michael and Aletha The best 'tart with milk' from the region. It cannot be missing in this royally delicious menu."
Read also:
Tips from the chef: This is how you make the best soup according to Piet Huysentruyt. "With pork you just have to follow the recipe, nothing can happen" (+)
Tips from the chef: This is how to make delicious lasagna according to Pete Hosentroit. Never use fresh lasagna sheets (+)
Unlimited free access to Showbytes? Which can!
Log in or create an account and never miss a thing from the stars.

Yes, I want unlimited free access
"Friendly communicator. Music trailblazer. Internet maven. Twitter buff. Social mediaholic."