It's not an everyday sport, but Belgium is masterful at it: the Belgian men took the bronze medal last night in the tug of war at the World Games in Birmingham (USA). The Belgians defeated Germany 3-0 in the small final in the 640kg weight category.
Watch Belgium-Germany for Brass:

Belgium from fourth to the semi-finals

The eight of them may not exceed 640 kg together. The Belgian team is made up of 11 members: Wim Brooks, Luke and Raf Mertens (Hoogstraten), Wim de Schutter (Rette), Jan Hendricks and Eve Smits (Dessel), Joyer Janssens (Niglen), Water Reimkers (Mall), and Johnny Shermans (Dessel). Merksplas), Dries Vermeiren (Sint-Lenaarts) and Joris Vermeiren (Wuustwezel).
The tug-of-war competition was completed in one day. First, 5 matches had to be completed in the preliminary round. The Belgians started with a 1-1 draw with Italy, lost 3-0 to Great Britain, then a 1-1 draw over Germany, a 3-0 victory over the Netherlands, and a 3-0 defeat to the first favorite Switzerland.
The top four went to the medal battle, and Belgium finished fourth against 1st seed Switzerland in the semi-finals. It was again 3-0. Switzerland, which has won all its matches in Birmingham, is a reference country in this sport having already won 6 titles at the World Games (1989, 1993, 2005, 2009, 2013, 2022).
Belgium still had to compete for bronze against Germany. Our guys immediately started strong and were so big, they won 3-0. Switzerland won the gold medal against Great Britain.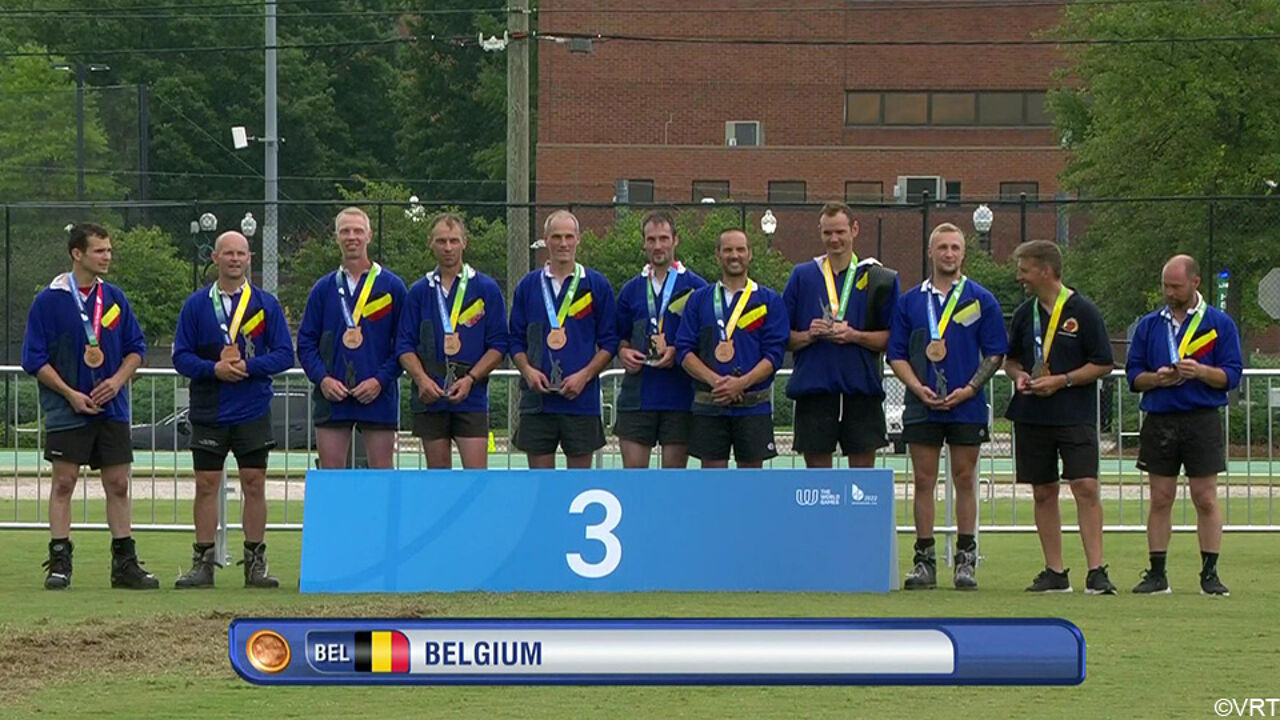 Coach Yves Smits: "Unspeakable after a hesitant start"

All beginnings are tough, as it turns out to try the ropes. "We start the tournament how not to start, with a 1-1 draw against Italy," coach Yves Smets analyzed the preliminary round of the Belgians.
"We always have to beat Italy. There were already those who thought it happened. We knew in advance that Great Britain was very strong and we lost. After 1-1 against Germany we beat Holland. The last four you know that anything is possible."
"The Swiss are out of the league, we already knew that. In the bronze medal match we had to play our own game. We had to keep the match in our own hands and let them make mistakes and break it."
The Belgian coach concluded his speech by saying, "We have a bronze: this is indescribable. We started the 2013 World Games with sixth place out of six." "Four years later, we have exceeded our expectations for fourth place."
"Now we put a little pressure on it, because last year we became world champions with clubs in a different weight category, but we lost 50 kilograms with the team. Now we are achieving our first medal in the state competition at the highest level."
Luc Mertens was one of the Belgians who won the bronze medal. "It feels overwhelming. After a hesitant start, things got even better. Getting bronze is great. We can aim higher in the future."
Watch the final between Switzerland and Great Britain

Eighth medal for Belgium

It is the eighth medal for the Belgium team in Birmingham and the fourth bronze medal. Bart Swings won four gold medals and one bronze medal in figure skating. The women's 4x25m pop relay and Jeremy Lorcinol (free parkour) also took home a bronze in their respective discipline.
Belgian medals at the 2022 World Games
Medal
Belgium
sports
Link
He went
Bart is swinging
Snowboarding: remove 10 km of points
Report
Bronze
Bart is swinging
Skiing: 1000m
Report
He went
Bart is swinging
Skiing: 10 km
Report
He went
Bart is swinging
Snowboarding: 10 km of points race on the road
Report
Bronze
Jeremy Lorcinol
Parkour: Free
Report
Bronze
Women's team
Pop 4 x 25m swim
Report
He went
Bart is swinging
Skiing: 15 km of the road
Report
Bronze
men's team
Pull rope (up to 640 kg)
Report
"Subtly charming internet specialist. Avid writer. Friendly alcohol guru. Music ninja. Devoted social media fanatic."