Last week the US Debt Ceiling and the Labor Market of course dominated the markets. As a result of the interest rate hikes by the Federal Reserve over the past 14 months, most analysts expect the US to enter a recession in the second half of 2023.
In order to talk about a recession, unemployment must rise. It is currently still at the historically low level of 3.4%. In this regard, the number of jobless claims is an important weekly indicator to watch. However, last week it surprisingly came in at 229,000 units, while a total of 245,000 units was expected.
But enough about last week. Next week will again be dominated by the US labor market, with unemployment figures peaking on Friday.
Do you have any questions after reading this article or would you like to receive more updates like this? Then take a look at our Premium info page and try it for free for 30 days.
Wed 31 May
We start Wednesday with the Job Opportunities and Employment Turnover Survey (JOLTS), which is a good representation of the number of job vacancies in the United States. In principle, there is a reasonable decrease in the number of vacancies, but not enough to speak of great misery for the labor market.
Thursday, June 1
On Thursday, we will be fuller on key economic data from the United States, including NFP Change, the net change in the number of employees in the United States. Last month, this indicator came out surprisingly high at 296,000 units, while an increase of 148,000 units was expected.
Also comes the number of unemployment claims. Last week, this gauge came in unexpectedly low at 229,000 units, while a score of 245,000 was expected. Overall, we can say that the US job market still looks to be thriving.
Also on Thursday we have the ISM Manufacturing PMI, which is a primary reflection of the health of US manufacturing. This indicator is now starting to show real weakness. In principle, any score below 50.0 means we are heading for a recession. In principle, this is in line with the expectations of the majority of analysts.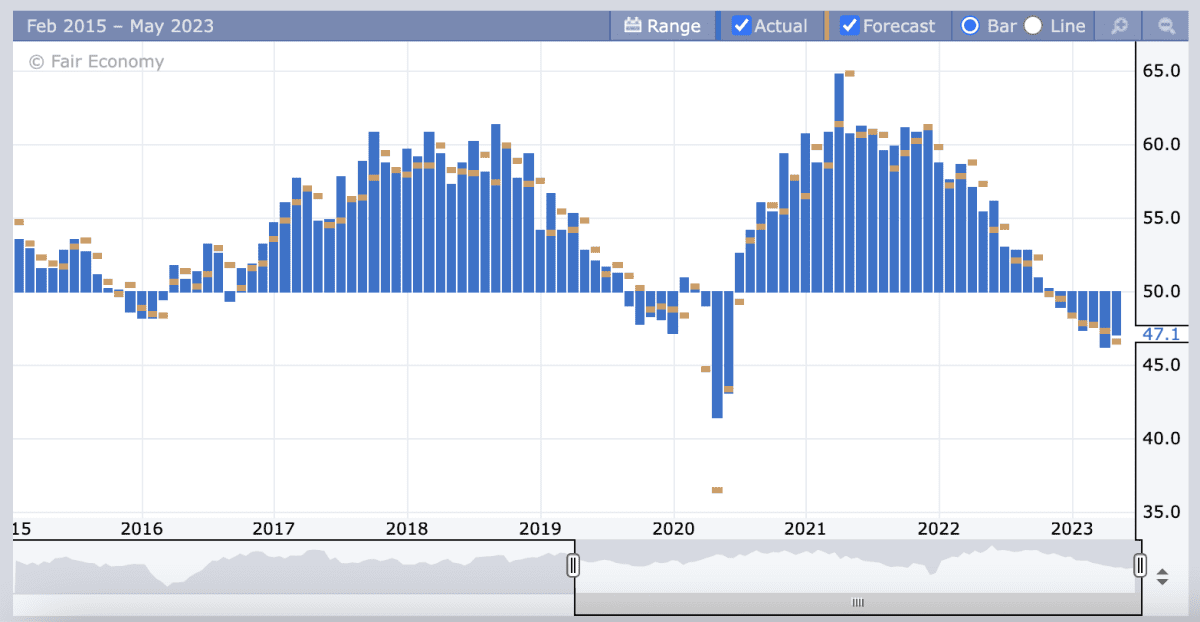 Friday 2 June
We end on Friday with the unemployment numbers. The unemployment rate in the United States is currently at 3.4 percent and is expected to rise to 3.5 percent. This is still not enough to call it a recession. In this regard, the US economy is still doing quite well.
This does not change the fact that interest rates have risen significantly over the past 14 months and therefore the outlook for risky assets is moderate. From a macroeconomic point of view, the situation does not look very promising for bitcoin and cryptocurrency in general at the moment.
In this regard, 2023 could be a difficult year and we will likely have to hold our breath until Bitcoin half From April 2024.
Stay ahead of the market with a premium membership
So it could be another exciting week in terms of macro numbers and therefore potentially also for Bitcoin. Would you like to get this kind of information early and see the impact of these numbers on the market? This is what we are talking about in the Premium environment for Crypto Insiders. You can also ask questions to experienced traders here and our analysts share 20 exclusive technical analysis of a wide range of cryptocurrencies each week. Take a look at our Premium info page and try the first 30 days for free.
"Total coffee specialist. Hardcore reader. Incurable music scholar. Web guru. Freelance troublemaker. Problem solver. Travel trailblazer."