television"For our princes, I'm not just a number. Queen Mathilde recently came to talk to me about chocolate. 'Bake Off Flanders' judging member Herman van Dender (65) has been a supplier to the royal family for fifteen years, and was recently named best chocolatier This year by Gault-Millau. "Twenty years ago, I was allowed to make the wedding cake of Prince Laurent and Princess Claire."
Just like his fellow judge, baking expert and culinary author Regula Yeswegen, Hermann has been there since season one. "After six seasons, I secretly expected them to ask me again this year," he says. "Furthermore, I have been asked again for an eighth season, which could come next year." Hermann is a pastry chef and chocolatier by training, but professionally his focus is chocolate. "I have completed the pastry section. Our new chocolate shop has recently opened its doors on Botterstraat on the Grote Markt in Brussels, which is an ideal location because many tourists come and love to take home a box of handmade Belgian pralines.
Can you easily plan a recording season for "Bake Off" into your schedule?
Yes, because recording takes place on weekends and I'm usually free then. I have my own chocolate company with a number of employees and it will continue to operate for a while even without me. This may be more difficult for presenter Wim Oebrock, because he is busier during weekends with engagements in the theater and his music. I look forward to those recordings every year. To be able to work again with Wim, Regula and this wonderful team: fantastic!
(Read more below the picture)
The ideal school
Do you think you have become more capable of refereeing after all these years?
Remember, I come from a professional environment. I myself have competed in Belgian Championships and World Championships. I have appeared as a member of the Belgian jury at the World Pastry Championships four times, having competed twice myself. And then it is judged to a very high standard. Peter Goossens would like me to be a judge of the Bocuse d'Or cooking competition every year, but I don't judge the desserts, I only judge the starters or main courses.
For an amateur competition like Bake Off Flanders, you have to turn the switch, right?
I should not lose sight of the fact that I am judging people who are not professionally involved in baking. These candidates want honest feedback because they can learn something from it. But their professional future usually does not depend on it. They especially want to improve their hobby and passion. This is a big difference.
I have faced off against myself many times in pastry competitions

Herman van Dender
You personally received this year's award from Gault-Millau as Chocolatier of the Year. Does this award still hit your ego?
Absolutely, because it's a prize you can only win once in your life. This was still something on my wish list. Every year I am invited to attend the awards ceremony. And every year I dreamed that maybe one day I would win myself. I succeeded this year. I will no longer participate in regular competitions. I don't think anyone in Belgium has participated in as many pastry competitions as I have.
Are you learning anything from this competition?
Yes, either from your fellow nominees or from the jury. The level is high and you face yourself during the competition. Whereas when you bake at home for Aunt Sidonie and Uncle Philemon, you have a very grateful but less demanding audience. They quickly find something delicious. In the competition, you have to prepare between five and ten different types of baked goods that you can compare to what your fellow candidates conjure from the oven. You can then see how far you have progressed and whether you have mastered the techniques. Then you will also know where your mistakes lie and what you still have to work on. Then you can only get better. It is an ideal school.
(Read more below the picture)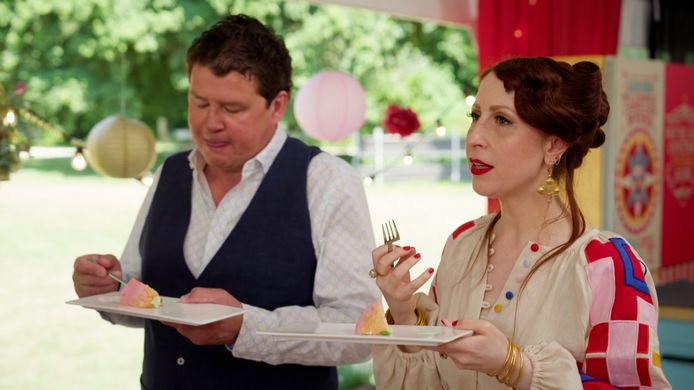 Informal conversation
I have also been a supplier to the royal family for fifteen years now. What is the last order you received from the palace?
Oh, I don't always know, because palace staff sometimes come to collect something in disguise, especially when it comes to everyday products. But for large banquets, I am asked to serve desserts at the appropriate time, most recently during the official visit of the Dutch royal couple to our country. Table space inside the Laeken Palace is usually limited to one hour. Afterwards, there is a walking buffet and then our Kings will drink coffee with their guests in the Royal Greenhouses. This way they can talk to as many guests as possible in an informal way, while they have to limit themselves to their neighbors at the table.
I was recently invited to attend the 10th anniversary of King Philippe and Queen Mathilde

Herman van Dender
Do you stand behind a pillar beaming and observe what is most attractive?
(He laughs) Sometimes I get invited myself. Just two weeks ago, during a gala evening at the Theater Royal Mont in honor of the 10th anniversary of King Philippe and Queen Mathilde. After the opera there was a reception in the theatre's foyer. There were also a number of approved suppliers on hand, and the royal couple took the opportunity to have a short informal chat with everyone.
Do they know immediately who they are dealing with?
It's not that King Philippe stands in traffic every Sunday to come and buy rolls from us and talk, but Queen Mathilde came up to me at the reception and started talking about chocolate. I definitely shouldn't introduce myself and tell people that I make chocolate. She knows it. This gives a kind of satisfaction. You are not just a number to them. They are always very knowledgeable and caring. This way we also get to know our best customers better.
(Read more below the picture)
Not very sweet
After all these years, Hermann, do you know what preferences our kings have when it comes to pastries and chocolate?
They like dark chocolate with a little sugar. But this is exactly my trump card. I make everything with very little added sugar, because sugar dulls the taste. The less you use, the more the natural flavors will come to the fore. You have to taste the pure flavors of the ingredients. Philippe and Mathilde also preferred Belgian chocolate, as did King Albert II at the time. I was often given carte blanche by the palace, including when I was allowed to prepare the wedding cake of Prince Laurent and Princess Claire twenty years ago. There were only two conditions: not too sweet and with Belgian chocolate.
Finally: You are gradually entering the busiest period of the year, with Sinterklass and the holidays. Chocolate candies are then sometimes given as gifts. Are there any new trends in this field this year?
Yes, we are working a lot with nuts this season. Almonds and hazelnuts are grateful products. We select them in the region of origin. This is how you make a difference and deliver the highest quality.
look. 10 moments from 10 years of King Philip
Read also.
Debbie, 36, steals the show on Bake Off Flanders: "Your own baking book or show about Njam? Love!" (+)
Misskandidate Joy (27) takes her chance on Bake Off Flanders: "And I say I don't like to eat cake" (+)
Herman van Dender has been elected Chocolatier of the Year 2023 by Gault & Millau
Free unlimited access to Showbytes? Which can!
Log in or create an account and never miss a thing from the stars.

Yes, I want free unlimited access
"Friendly communicator. Music trailblazer. Internet maven. Twitter buff. Social mediaholic."