What Van Air? quick move? Alpecin Phoenix? Biniam Girmay was the big man after Gent-Wevelgem. The Eritrean made history by becoming the first African to win a classic game. Karl Vannieuwkerke and José De Cauwer also see beautiful, large diamonds that still need to be completely cut.
Carl: Jeremy doesn't come out of nowhere. But to win this race on your first run… then you have to be of an exceptional class.
Jose: "This is more important than a Tour winner or a World Champion who wins a Gent Wevilgem. They've already won here, and that's already in the history books. This victory is unique, this is my first African."
Carl: Is this the catalyst for a greater internationalization of cycling? Suppose you can have the entire African continent.
Jose: "We came from a period when the Norwegians and Australians, among others, came. There were also riders from other continents, but Jermay is the first to play along."
Karl: Girmay previously announced that he will be returning to his family in Eritrea after Gent-Wevelgem. He will only return to Europe for the Giro d'Italia. On a whim I said: He should stay for the Ronde. Then Adrenaline faded, you changed your mind.
Jose: "There is now a very important task for the little Wanty team. A lot of time and energy has to be invested in this diamond. It is a huge stone that still needs more polishing."
Carl: He's a smart kid who speaks many languages. It is also price wise. You can see that in his behavior in the final. He knew what he was doing to prepare for the sprint sprint.
Jose: "I think they would be proud of the UCI. He came to Eagle as a teenager in the UCI youth academy in cycling. But they clearly did more than that with him. They also tried the adult athletes of those talents. It worked. Cheers ".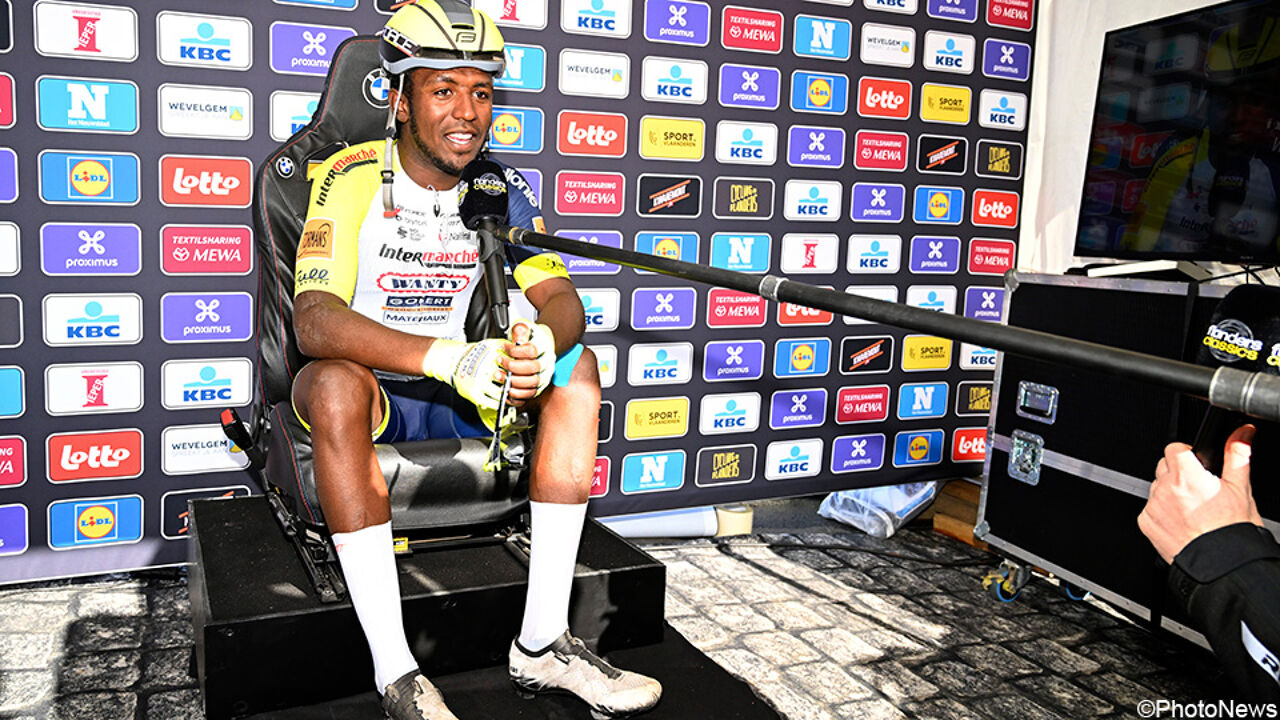 Karl: There are now of course teams that will regret it after this Gent-Wevelgem.
Jose: "Yes, we can look at Alpecin-Fenix. They sacrificed Gianni Vermeersch and made it work. Wasn't Merlier insistent enough to complete it?"
"Loto Soudal was in the final with 4 men and didn't really cooperate on the counterattack. Why not? If only for the announcement."
Karl: I get it, but their fast guy Arnaud de Lee misses the mark on Kemmelberg. You're there with 4 guys without a runner.
José: "I'm going to get someone to quest – ASAP. Then gamble on a dash like Kragh Andersen. It's tough, but at least you can try?"
Carl: Are they going to lose sleep because of Laporte's enemy in Jumbo-Visma?
Jose: "No. They would have preferred to win, but he fell. Laporte was going on Girmay's trail and couldn't get past him. The team was good again with 3 riders who stood out: Benoot, Laporte and Van Aert."
"Because Jumbo-Visma is racing this way, it looks like we're missing a lot of the riders. Where's that resistance? However, only two are missing: Mathieu van der Poel and Tadej Pogacar."
There is only one team that can sit back and relax and that is Jumbo-Visma. It's as if the entire counterweight rests with Pogacar and Van der Poel.
Carl: In the past, Quick Step could lay eggs in many baskets. Only now at that from Kasper Asgreen. And then it's still hard.
Jose: "We saw a good Asgreen. He was one of the few who could follow Van Aert through the third clip on Kemmelberg. The restart isn't easy for Lambert. Senechal was unlucky in the crash. Who's going to be the second or third man there?"
Carl: Now you can draw conclusions about the ronde. But on Wednesday, Mathieu van der Poel and Tadej Pogacar will start at Dwars Door Vlaanderen. They will in any case play a role in the ronde.
Jose: "And conditions too! They expect wetness, which makes the course more difficult. But does that make the opposition better?"
"There is only one team that can sit back and relax and that's Jumbo-Visma. It's as if the complete counterweight is with Pogacar and Van der Poel. It shouldn't be allowed."
"Subtly charming internet specialist. Avid writer. Friendly alcohol guru. Music ninja. Devoted social media fanatic."