"Welcome to the Future City Theater!" It seems. Meanwhile, for the third edition of the Free Games Festival Playtime 2022, the City Theater of Bruges has been transformed into a massive digital game hall from Friday, September 16 to Sunday, September 18. We went to the West Flemish capital and spoke with organizer Peter Daevich, Cultuurcentrum Brugge project coordinator.
Theater and games. A culture with a capital C and a medium that is impossible to imagine without, but which is sometimes considered childish entertainment. At first glance, it seems difficult to reconcile the two, but nothing could be further from the truth. The acoustics of the Bruges city theater enhance the cheerful melodies that sound from the arcade machines, while bright neon lights make the antique décor of the building more inviting. From indie games downstairs (and below the stage!) to vintage games in the arcade above with the huge screen in the theater like the pièce de résistance: wherever you look, art shines through.
In fact, the combination of theater and games is not unusual, says Devish: "Games are a new form of culture. Some social themes are well addressed in games, which may be more difficult for other forms of culture. We also try to show this building, And what happens in it, to the youth. Why don't we flip the case and start from the world of the youth in order to get them in touch with both the stage and a particular form of gaming that they might not know either?"
Each hall in Stadsschouwburg highlights a different aspect of gaming. In Arcade Hall and Player Input Hall, you play on E-Waste Arcades and the arcades of Devillés, two brothers who fuse their passion for games and woodwork, respectively. Classics like Pac-Man, Tetris, and even Grand Theft Auto 3 are reviewed in the Retro Room. Looking at the young spectators, we limited the usual GTA exploits to a minimum. The standout game is here: The Graveyard (Tale of Tales), where you control a weak old lady in a cemetery. In the industrial room we immerse ourselves in the world of virtual reality. Finally, there are several activities, including a game design workshop (with Game Builder Garage or Unity software), a phone party!, and Game Battles, where you compete against the famous Flemish and avid gamer William Boeva. However, in order not to embarrass William too much, we decided not to compete.
In the basements, we delve into the universe between art and games, what curator Zuraida Potter also calls the "fun arts." Diversity is an asset. We find many creations in the categories of cooking and food games, girls making games and character games. Regarding the latter, we especially remember Aley Baracat's Game of Me. In Game of Me, you browse through Aaliyah's piano notes, featuring Harry Potter's wise sentences, graphics, and choices (Ali says it was inspired by Martin Riddle's "live" notes in Harry Potter and the Chamber of Secrets). An almost intimate experience that explores the boundaries between different media.
This exploration also appears to be central to Game Talk about storytelling (organized in collaboration with Howest – DAE). In it, storytellers not only from the game world but also from the performing arts (Marthe Schneider, Robin Rodet, Gabriele di Franco, Jedidjah Julia Noomen and Dagmar Blommaert) explain their creative process. A wonderful and well moderated panel discussion that, despite the somewhat abstract material, managed to remain accessible to the audience present.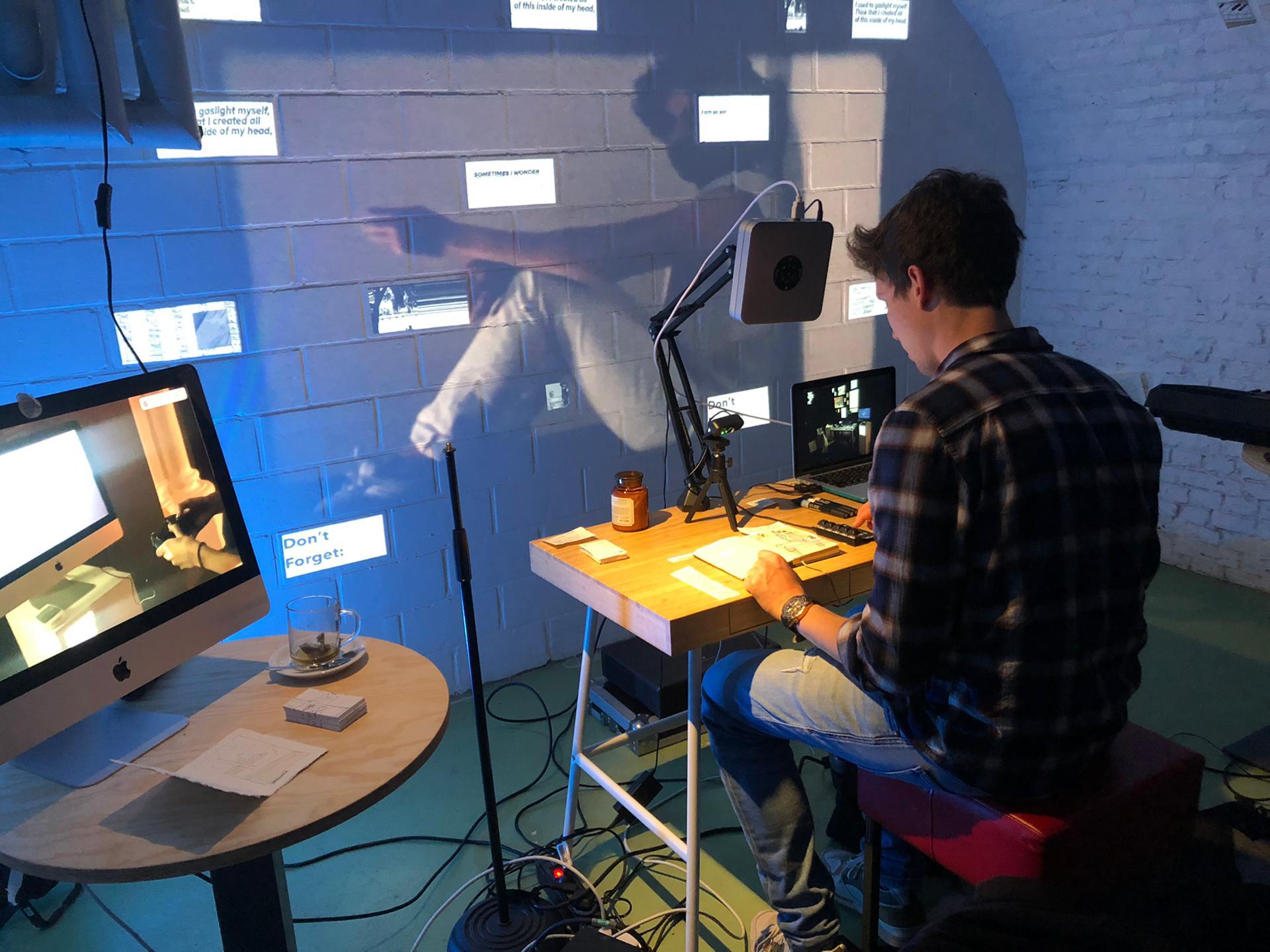 Of course, Playtime also provides a platform for games made in Belgium. Devish: "The interest in young developers is definitely there. Every time we invite game developers who can showcase their game. This doesn't have to be a finished game either; the very intent is that maybe it's still early and they can also learn from audience reactions. Last time I think That three developers volunteered, and now there are ten. So we are very pleased that we are taking a step forward here."
In Indie Hall we can already find a rich offering consisting of: Please, Touch The Artwork (Thomas Waterzooi), Maze'Em (Slappy Inc.), Rise of Humanity (Cybernetic Walrus), Baby Dino Adventures (Sleeping Panda Games), sU (Guillaume Bouckaert), Silent Dot (Sander Vanhove), Verses of Enchantment (Night Flame), Ghost on the Shore (as Charlie), Hijack Overdrive (Meteor Studios), and replaceable (The Pack). There are no AAA movies, but the featured games are packed with exciting stories, beautiful artwork and innovative design.
A promising look into the future, in other words: something that actually applies to Playtime and gaming as a whole. We are already looking forward to the fourth edition!
"Thinker. Coffeeaholic. Award-winning gamer. Web trailblazer. Pop culture scholar. Beer guru. Food specialist."