Thanks to walking football, more and more seniors can still continue to play their beloved sport. Therefore, football on foot is making great strides in our country. "But entertainment remains central."
This article is a collaboration between journalism students at PXL University of Applied Sciences and Spora. written by Tjorven Bonst.
Walking soccer is an ideal sport for somewhat older soccer fans. The sport has been on the rise in recent years. In a short time, the number of teams in Belgium increased from 18 to 31.
Football came from England. "Sport has been popular with us for a long time," said Stuart Langworthy, president of the England Walking Football Club for more than 60 years.
This sport, of course, is especially popular among the elderly. As the name says, there is only walking. Even walking is forbidden. It is one of the five bases on which the sport is built.
Football walking rules:
5 for 5, on a smaller field
The ball should not fly higher than 1 meter
Contact with the opponent is prohibited
Fair play comes first
It's a sport for the elderly so it's easy to laugh at. But don't underestimate it, because you average 8,000 steps per training or competition. "It keeps your body and mind healthy."
The walking soccer ensures that your body and mind stay healthy.
In West and East Flanders, Voetbal Vlaanderen provides a calendar of organized walking football matches. 11 different clubs take part in this.
"Moreover, clubs regularly organize tournaments or even travel abroad to participate in tournaments," says Lars Hendricks of Voetbal Vlaanderen.
For example, Club Brugge Old Stars has already hosted teams from Germany, England and the Netherlands.
"We see a real community emerging within the football players on foot. When they visit each other, they are always greeted warmly with food after the match," says Lars Hendricks.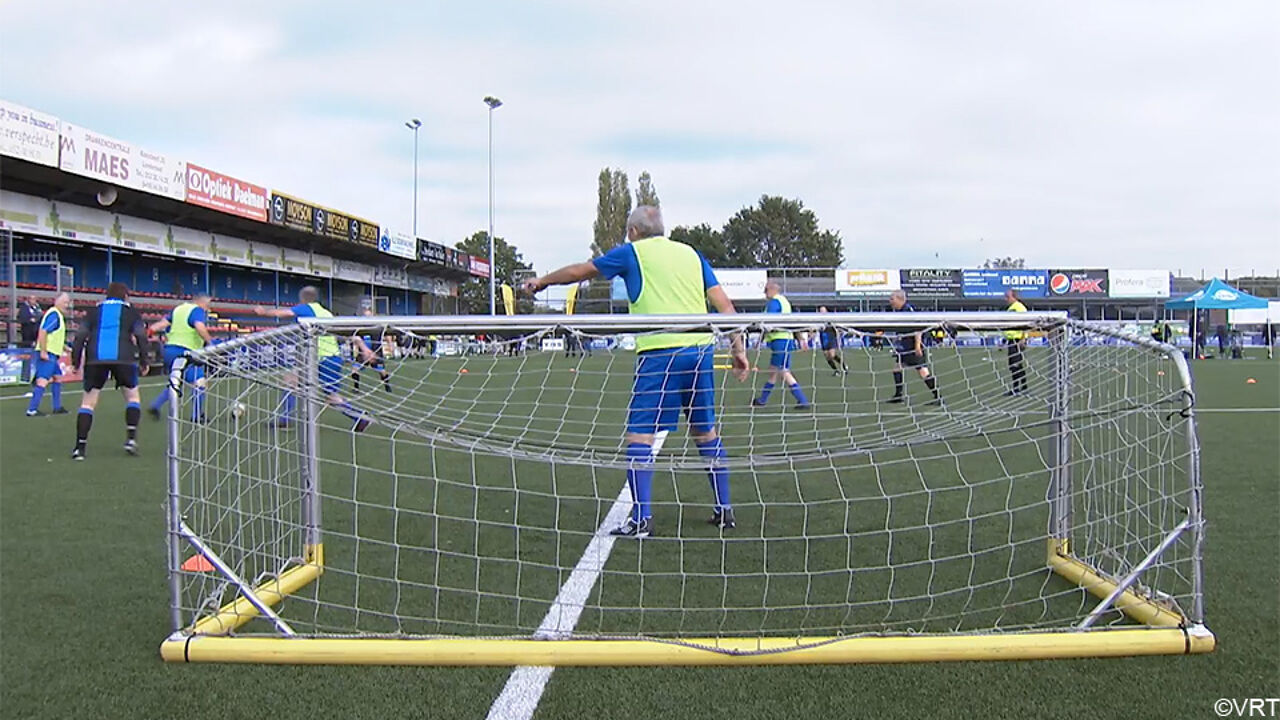 No "Jupiler Pro League" for walking football

The sport is more lively than ever and professional clubs are finding their way into walking football and recognizing its added social value.
OH Leuven, Club Brugge, Zulte Waregem, Racing Genk and Kortrijk have already created a walking football team for a while. Beerschot is also busy developing a project and has already played some training matches.
"We see that the clubs confirm that inclusion is key. Women over 50 and men over 55 have a place. That is the intention, of course, and we certainly encourage it," says Lars Hendricks.
If we choose a competitive character, we notice the exclusion of players.
Despite the growing popularity of walking soccer, there is no intention of creating a kind of "Jupiler Pro League" for walking soccer. "The entertainment and the social aspect are the focus of this sport."
"There are many non-professional clubs that have established excellent and sustainable operations. It would be inconsistent with the values ​​of football to walk away to exclude these clubs from an 'elite competition' with only professional clubs."
Moreover, the word competition also refers to ranking. They don't want to find out in Voetbal Vlaanderen either.
"If we choose a competitive personality, we notice players being excluded," Hendricks says. Because this is what football is all about: "We want everyone (recreationally) to play responsibly for life. Playing football."
"Subtly charming internet specialist. Avid writer. Friendly alcohol guru. Music ninja. Devoted social media fanatic."