The fashion world is in turmoil: after disappearing from the scene for five years, Phoebe Philo (50 years old) is back. The British woman, who previously made her mark on Chloe and Celine, is now finally launching her own brand, which has almost completely sold out in just 24 hours. But who is this woman and to what does she owe her huge fan base? "I injected the basics with sensuality."
The name Phoebe Philo (50 years old) may not mean anything to you, but the British woman has been making waves in the fashion world for years. "She can count on a huge fan base," says fashion editor David DeFriendt. "Most people wouldn't know her, but she left a huge mark on the brands she worked for." From Chloe to Celine, she's now launching her own brand, after fans have been urging her on for years.
Its own brand of screaming Quiet luxury, including a leather bag worth at least $8,500. "For the customers that Filo is targeting, a few thousand euros is not too much, even if there is a crisis in high fashion." The first collection has now sold out almost completely in one day. "People have waited six years for this launch."
Philo's career in brief
Who is this woman and what makes her designs so popular? "In recent years the question has been: Where is Phoebe?!" Quick summary: From 2001 to 2006, Philo was creative director at Chloé, where she succeeded Stella McCartney. She was able to continue the growth that McCartney started and her designs for Chloé were very popular. They were textbook examples of the then-popular boho chic style.
"Filo's designs featured lots of lace, fringes and romantic pieces like baby dolls, while still being very elegant." suits We are. She played on the contrast between romantic style and basics. Her designs for Chloé were so popular that many clients requested their own brand. There had been negotiations for a while, but it wasn't the right time. Read: There wasn't enough money.
Pause to focus on her family
In 2004, Philo gave birth to her first daughter, Maya, leading her to put her career on hold after two years and quit Chloe after one final iconic collection in 2006.
During the two years that Filo was not an active part of the fashion world, several brands with a similar style entered the market. The Raw, Cos, Victoria Beckham brand. "They all imitated Philo's style a little bit, but they couldn't quite replicate her magic. Elevated fundamentals, with certain details that really make it work.
Philophiles and "We Miss the Old Celine"
Instead of launching her own brand, Philo became a creative designer at Céline in 2008, after a two-year hiatus. "Those were the peak years in fashion. Celine had a very different image before she arrived. Michael Kors previously served as creative director from 1997 to 2004. The brand screamed glamor. It embraced many of those influences, but it also went back to basics and put its own spin on Special on her.
She truly manages to put a sensual touch on basics, producing pieces that women really need and want to wear.

Fashion Editor David DeFriendt
"Philo has a very simple style, which is what she's known for. But she always gives it a feminine, chic, elegant touch. For example, she designed Birkenstocks for Celine in 2013. She was able to really put a sensual spin on basics, creating pieces that women needed." And they really want to wear them.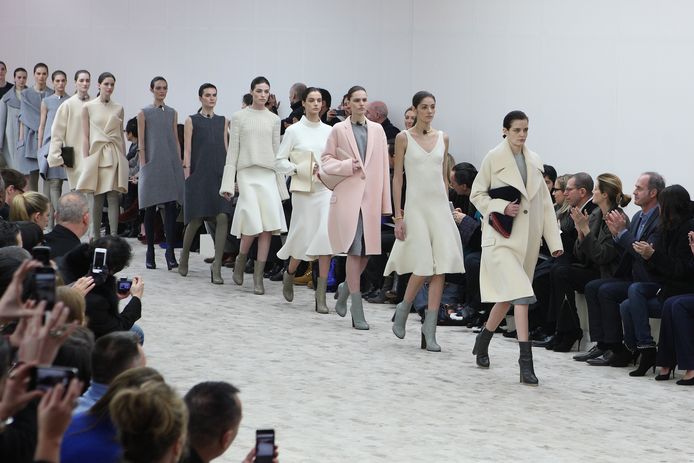 In 2018, Philo submitted her resignation to Celine. She will be succeeded by Hedi Slimane, who is more Rock and roll I ams, among other things, the focus on the brand was removed. "Many women today still wear pieces by Celine's Philo, and fans of this era are also called Philophiles. They are less attuned to the style of her successor and their slogan is 'We miss the old Celine.'
"Many designers, both high fashion and fast fashion, owe what Philo did to Celine."
Vibe 2.0
After her departure from Celine in 2018, Philo disappeared from the scene. The British woman is once again focusing on her family life, but she's also quietly starting to create her own brand behind the scenes. Now, five years later, the time has come. "Her brand is in keeping with the aesthetic that has made her so successful."
Yes, it's the fashion we already know. However, I think it remains relevant and definitely fits in with the subdued luxury trend

Fashion Editor David DeFriendt
"The silhouettes I created at the time are still widely seen among influencers today. So I stuck with that. When I look at the collection, there's a lot of what we've already seen. Lots of creams and earth tones, simple but with a certain twist. Yes, it's fashionable." Which we already know. However, I think it remains relevant and definitely fits into the quiet luxury trend.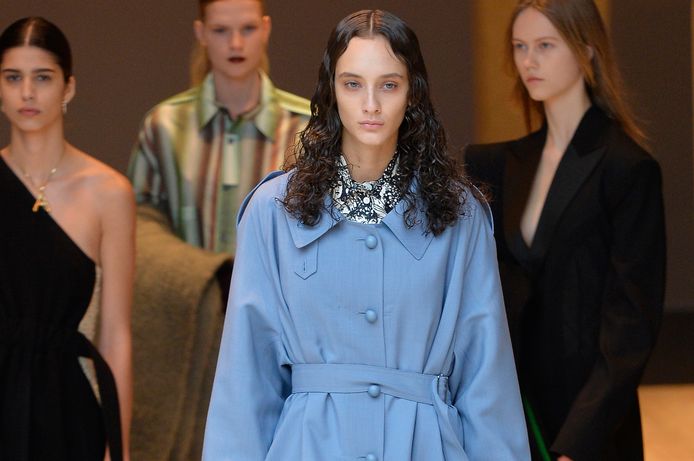 "In addition, the pieces relate to her daily life as a mother of three. For example, there are accessories that say 'MUM'. The collection is simple, easy to wear and elegant. When I look at the designs she has launched now, I really see a 2.0 vibe somewhere. It's a vibe After Celine, because she will be remembered forever because of her designs for this brand.
She turned away from everything she saw in Celine

Fashion Editor David DeFriendt
She has maintained her distinct identity in terms of her collection's style, but has made some changes in terms of approach. "There's a completely different production model behind it than high fashion. It's moved away from everything you saw with Celine. It's producing less than demand, to avoid overstocking at all costs."
"She wanted to make the supply chain more intimate, and translate those high-end pieces and craftsmanship into her business model. She also consciously chose not to participate in the crazy level of fashion weeks. That would cause her a lot of stress. Philo will now do three drops, and she will stop." 'At this point at the moment. She wants to deal consciously with the materials she uses and their impact on nature, although of course this comes at a price. The majority of the collection is made in Europe and especially Italy, with the best craftsmanship.'
You can purchase Phoebe Philo designs here to look into.
Read also:
Just as chic as a designer bag, but not nearly as expensive: 15 handbags under €150
Don't throw away your Halloween costume, because the entire fashion world will follow suit this fall. "The style is dark and gothic"
Is thermal clothing old fashioned? Think again. Here you can shop the most amazing items
Free unlimited access to Showbytes? Which can!
Log in or create an account and never miss a thing from the stars.

Yes, I want free unlimited access
"Friendly communicator. Music trailblazer. Internet maven. Twitter buff. Social mediaholic."