Toyota Yaris: Always a secret, a car that is very popular with the elderly. This makes a lot of sense. It's a small city car and it's also a hybrid with an automatic transmission (CVT). Comfort everywhere. It is also very economical, which is another plus. Unfortunately, not many young people are happy with these qualities. But now we have the Toyota Yaris GR Sport and it combines all the good things about the Yaris with an amazing sports suspension and even more sporty kit. We are convinced that everyone should own a Yaris GR Sport.
| | |
| --- | --- |
| strength point | Weaknesses |
| + Sports! | – room |
| + It seems | – Mode B is not for highway |
| + Consumption | – Armrests in the door |
What is Toyota Yaris?
Toyota Yaris is a small city car from Toyota. It's a size higher than the Aygo and we think it has almost the same dimensions as the Aygo as the Yaris, a car for everyone.
finally! Toyota Yaris gets rid of its boring appearance! All previous generations never stood out as sporty or cool. But this new look really makes it stand out. The bold front and wide hips make the Toyota Yaris look like a sports car, whichever version you choose. Rims and two-tone paint complete the picture.
The version we received is the Toyota Yaris GR-Sport. This means you get the larger 1.5 hybrid engine with a total power of 92bhp as standard. It's not a huge amount, but it's more than enough for the Yaris. 0-100 is accelerated in about 10 seconds, and consumption during sporty driving averaged no less than 1 in 20.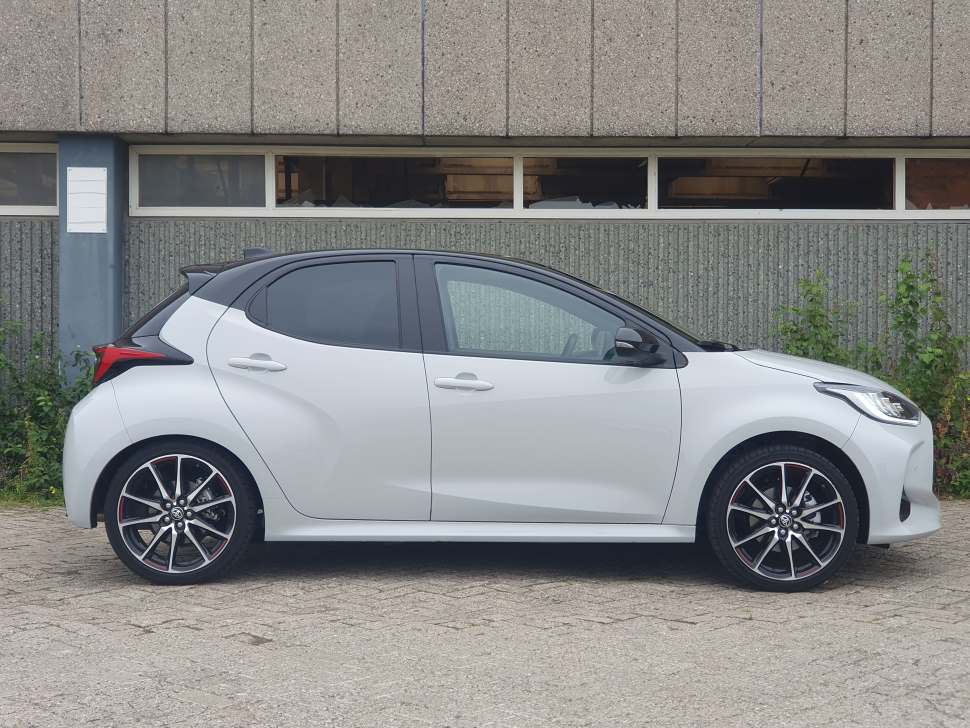 How does he drive?
First of all, we would like to point out that the base is of course the very practical Toyota Yaris. But you immediately notice the sportiness. When you enter, the sports seats will hug you nicely. The interior is also very nicely designed. Press the start button, grab the beautiful sports steering wheel and put it in D position.
The car steers sharp and very tight due to its small footprint and sporty steering rack. You can dash through the residential area like a mouse through the house. Bend here, swivel there. They won't get you. The 1500cc three-pot is shaking nicely in the background, but we think that's nice. During normal driving, the engine is quieter, and you're often driving electric. The CVT works well, although sometimes it's strange that it doesn't change gears. But wait, details.
The car isn't fast, but it feels that way. It is also very light and economical. All-round visibility is excellent and the cameras are nice and good. The brakes also give us confidence, as we never felt out of control in the Toyota Yaris GR-Sport. With sporty driving, even the rear end breaks, which is exciting!
strength point
With the Toyota Yaris GR Sport, you can get all kinds of cool stuff that starts with the word sport. Such as sports suspension, sports suspension, sports seats, sports steering wheel and sports steering rack. This means that it grips the road well and sits well in the car. All these sports elements really bring many advantages. The car drives, steers and sits great and is always perfectly controlled. This is the perfect Yaris. Can the GR-Sport package also be ordered for a Fiat Punto from 1995?
We've mentioned it already, but the looks of the Toyota Yaris GR Sport are really cool. Not only is the basis of the current Yaris very good, but the details of the GR-Sport are a great addition. The two-tone paint option is great, and the edges are much nicer. These are probably our new favorite frames, so simple but so good. In addition, the sports bumper at the back is also nice. Yaris is not only beautiful on the outside, but on the inside it is also very successful. The old digital gauges are very cool and so are the steering wheel and seats.
With all these sporty features usually comes a tow bar and a trailer that holds extra gasoline. But Toyota wants none of that. Sport doesn't have to be expensive! And so Toyota (we think). Toyota Yaris GR Sport drives 1 in 20 effortlessly. We were driving extravagantly and couldn't get enough out of the tank. We drove it for a whole week, including four trips to and from work, 40km a day. How many liters did we fill? 23. That's it.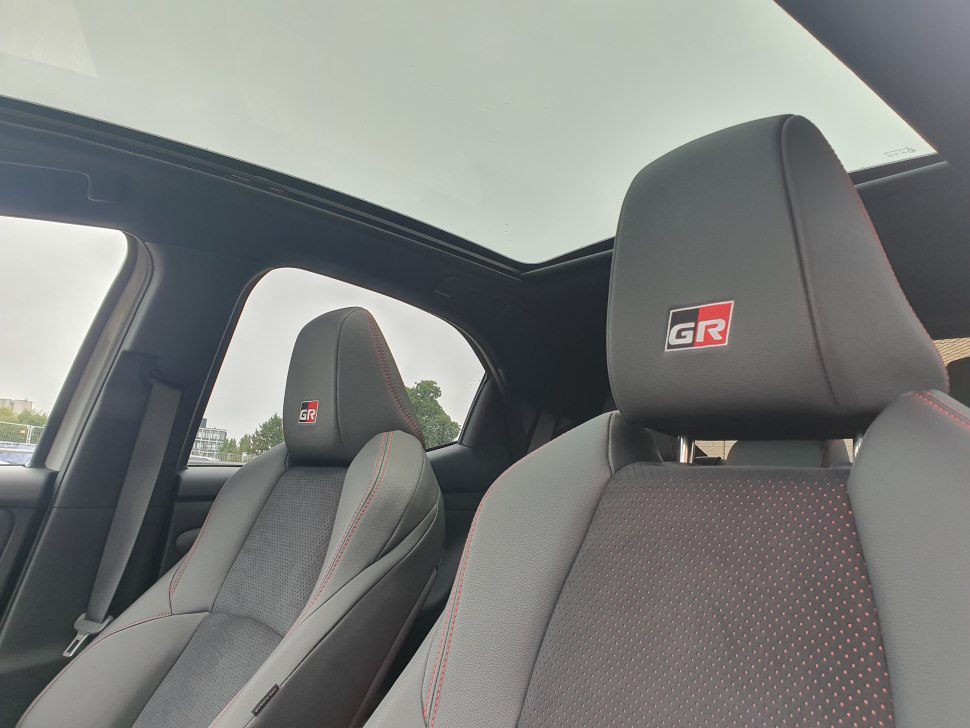 Weaknesses
Logically, we want to talk briefly about the space in the Yaris. Of course, you can't buy a Yaris to go on holiday to southern Italy with your whole adult family. We understand that too. It is important to mention that as a man of 1.90 metres, I can easily sit at the front. But then no one can sit in the back. We drove it for a while with four people, and then I was coiled around the wheel like some kind of spider. Not perfect. Trunk space is excellent for this class.
Then let's talk about position B. This is the position that provides additional recuperative braking, allowing you to cover more electric kilometres. This works very well on the Toyota Yaris GR Sport. Then inside. On the highway, the CVT maintains a continuous speed of about 4,000 rpm. This does not benefit consumption. If I put it in D, it immediately drops to around 2000. We think that's a shame. We also want a B on the highway.
The next weak point is small but important. With my male arms of 1.90, I usually couldn't use the armrest on the door. There's a kind of receptacle construction that closes all around, so your forearm is too long for the door. There is, as it were, room for your hand to pass anything. You notice it once and then it never goes out of your mind.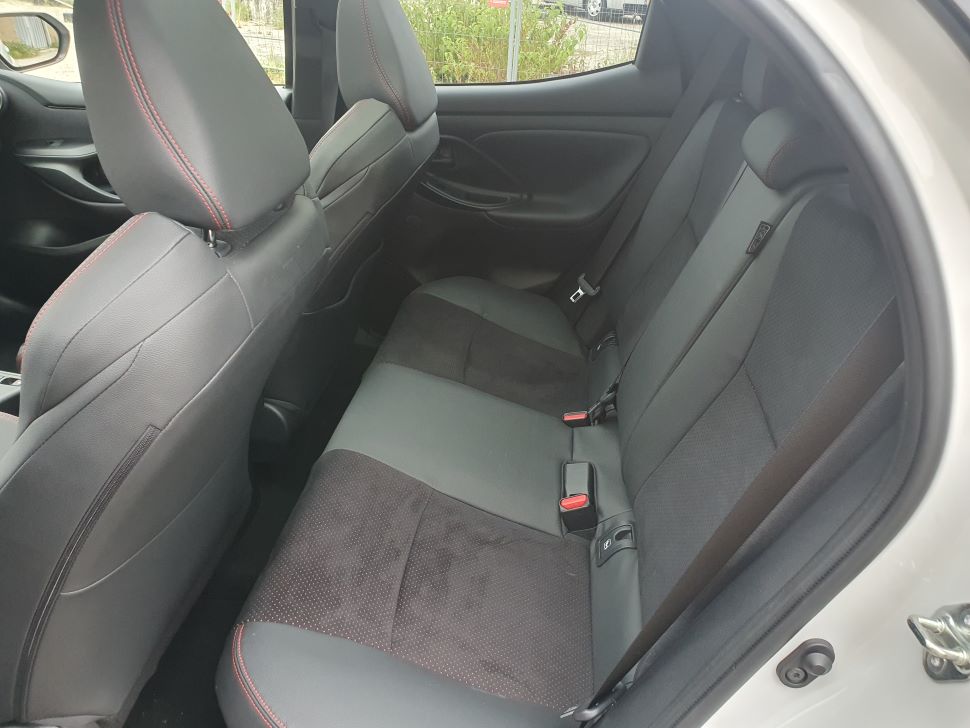 equipment
The Toyota Yaris GR Sport comes standard with a digital dashboard, which is named after it Close up binoculars He wears. There's also a wireless charging point for your phone and of course the sports seats, steering wheel and the rest. Privacy glass at the rear and contactless entry, start and parking sensors are also standard.
We have paint color as options on our vehicles Dynamic metallic grey to Black roof. This costs 1095 euros. We are also happy with it Premium package. Here we find a heated steering wheel, a head-up display, JBL audio with eight speakers and a truly huge panoramic roof with manually operated sun blinds.
Conclusion test drive Toyota Yaris GR Sport
The Toyota Yaris GR Sport is a sports city car with a very solid base and an amazing class on top. Anything with the word "sport" added in front of it is great. The car looks elegant, sporty and very economical. Plus, it looks really cool inside and out. It's not space saving and you can't really put your arms over the door. This is unfortunate, but we can overcome both. What's unfortunate is that B mode is actually only suitable for off-road use. Overall, we would recommend the Toyota Yaris GR Sport to everyone. Do you have a very large family? Then buy two! Or three!
Toyota Yaris is available From 21,695 euros. The price of the Toyota Yaris GR Sport starts from 33,295 euros. Our model costs €35,993 with the above options.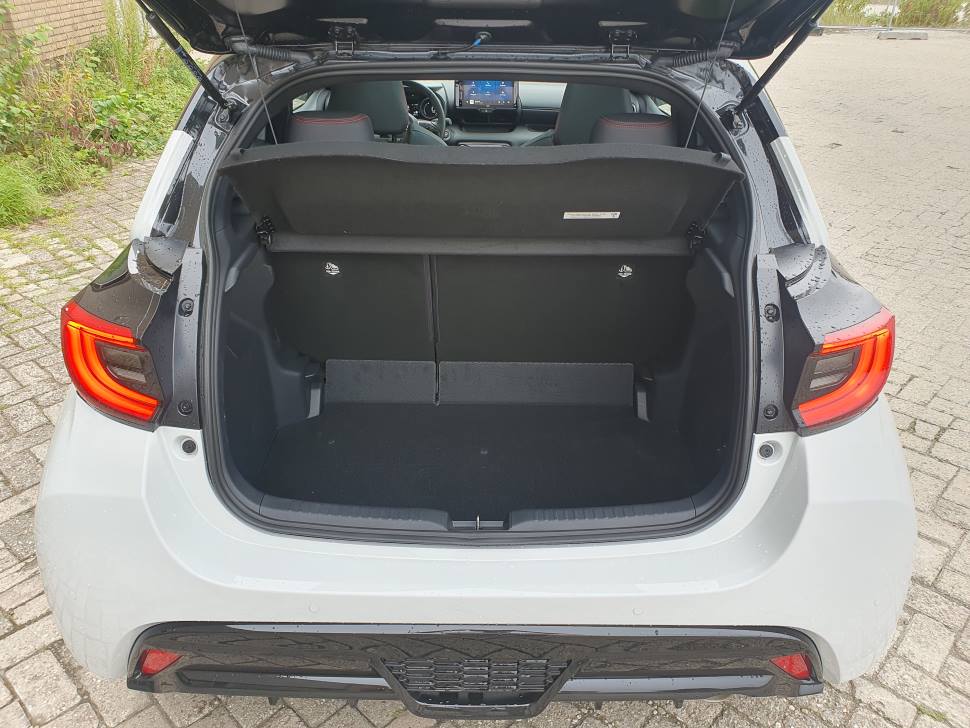 "Total coffee specialist. Hardcore reader. Incurable music scholar. Web guru. Freelance troublemaker. Problem solver. Travel trailblazer."