What a wealth of Belgian cycling. Lotte Kopecky triumphed in the opening stage of the Tour de France, and Jordi Meeus took a shock victory in the final stage of the Tour. At Vive le Vélo there was a discussion about the sprint on the Champs-Elysées. "It's a dream to win a stage as a young rider on your first Tour, especially on the Champs-Elysees."
Tom Boonen had come to Paris specifically to sit at the table for the final episode of Vive le Vélo. He had nothing but praise for Jordi Meus' quick victory.
"If you see where he's coming from. He was a bit lucky because there was a traffic jam before the race started. At that moment the riders were able to join the sprint from behind. But he did a nice strong race and won deservedly."
It didn't work out for Jasper Philipsen. The collaboration with Mathieu van der Poel this time did not go well. "Matthew started very early. Also because the moment was present. If he waited any longer, more people would come from behind."
"Timing wise today wasn't perfect. Matthew went really fast and it was too early for Jasper to go."
"He had to wait a while and so the line behind him came rushing in front of him. He had to come from behind and he was a little short."
"There was a sprint and Mius found his way"

Jordi Meuse is following in the footsteps of Tom Boonen. He also won on his debut Tour de Champs-Elysées.
"I think Jordi will have a very big future," says Boonen. "Coming this way shows that you are a sprinter with a lot of content. It is a dream to win a stage as a young rider in your first Tour, especially on the Champs-Elysees."
"He had a very nice learning curve. There was some hard running in this Tour and he found his way. If you can immediately win your first Tour on the Champs-Elysées, the learning process has been enough."
It was a very challenging Tour, with a lot of climbing. How can you persevere as a runner, especially if there is no action against a competitor like Jasper Phillipsen?
"That's the carrot they're holding in front of you. You know it probably won't work, but you're hoping for that water opportunity. You keep running every time, sometimes against your better judgement."
"You always have to keep trying, because there are always chances. One day you will succeed, and then the click often happens in your head. After that it often repeats itself." easier."
You always have to keep trying. One day this method works and after that it repeats itself more easily.
Mius: "I suffered, but that makes it all worth it"

Jordi Meeus is now one of 12 Belgians to take a stage victory over the Champ-Elysées. The 25-year-old Bora-Hansgrohe rider stopped by during the Vive le Vélo broadcast to talk about his prestigious victory.
"I wasn't sure if I'd won, but when I heard the confirmation in my earphone, it was an indescribable feeling. I definitely struggled on this Tour, but winning here makes it all worth it."
"It's my first Tour, so I've been mainly busy finishing the Tour. I won in Paris, I was hoping for it, but I didn't really get it." is expected. I'm very happy to be able to win here."
"This sprint suits me well, after a hard run. I know I'm not the fastest sprinter. If I had a little more power, I'd finish."
Inquiries in the peloton show Meeus is very popular with his teammates. That's good to hear. I like to try and keep up the spunk. With a joke here and there, even in to expel."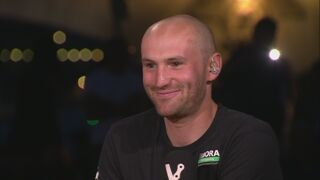 Tour de France Categories
Tour de France
Riding
date
Beginning of the End
riding type
the total
winner
leader

1

01/07
Bilbao – Bilbao

182 km

Adam Yates

2

02/07
Vitoria-Gasteiz – San Sebastian

207.3 km

Adam Yates

3

03/07
Amorebieta-Etxano – Bayonne

193.5 km

Adam Yates

4

04/07
Dax Nogaro

181.8 km

Adam Yates

5

05/07
Bao Laruns

162.7 km

Jay Hindley

6

06/07
Tarbes-Cauterets-Kampasque

144.9 km

Jonas Fingergaard

7

07/07
Mont-de-Marsan – Bordeaux

169.9 km

Jonas Fingergaard

8

08/07
Libourne Limoges

200.7 km

Jonas Fingergaard

9

07/09
Saint-Léonard-de-Noblat – Puy de Dome

182.4 km

Jonas Fingergaard
Rest day 7/10

10

7/11
Vulcania – bracelet

167.2 km

Jonas Fingergaard

11

7/12
Clermont-Ferrand – Moulins

179.3 km

Jonas Fingergaard

12

7/13
Roanne – Belleville en Beaujolais

168 km

Jonas Fingergaard

13

7/14
Chatillon-sur-Chalaronne – Col du Grand Colombier

137.8 km

Jonas Fingergaard

14

7/15
Anmas – Morzine

150.4 km

Jonas Fingergaard

15

7/16
Les Gets – Le Bettex

179 km

Jonas Fingergaard
Rest day 7/17

16

7/18
Basi Complex

22.4 km

Jonas Fingergaard

17

7/19
Saint Gervais Mont Blanc – Courchevel

165.7 km

Jonas Fingergaard

18

7/20
Moûtiers – Bourg-en-Bresse

184.9 km

Jonas Fingergaard

19

7/21
Moirans-en-Montagne – Poligny

172.8 km

Jonas Fingergaard

20

7/22
Belfry – Le Markstein

133.5 km

Jonas Fingergaard

21

7/23
Saint-Quentin-en-Yvelines – Paris

115.1 km

Jonas Fingergaard
"Subtly charming internet specialist. Avid writer. Friendly alcohol guru. Music ninja. Devoted social media fanatic."