"I would still like to go to a Belgian surgeon for new implants. But yeah, it costs a lot of money." Gabriella, 28, has been living in Aalst for three years. She grew up in Venezuela, but it was dangerous for her as a trans woman. She is finally happy in our country, she says, because she now feels comfortable in her own body. "And this is also permissible, because I exercise every day for at least two hours."
On the beach, Gabriela immediately catches the eye with her big straw hat and sexy bikini. When we suggest if she wants to take part in the photo shoot, she asks to come back in half an hour. "I want to settle down first," she says, waving to her umbrella, chair, and cooler box.
Thirty minutes later we see her again jumping excitedly. "Let's do it. She speaks Dutch for the rest of the interview. "What a difficult language," she sighs. "A year ago I started taking Dutch lessons. I go to school three times a week. It's not easy, but with a lot of practice you get better a little bit each time. (smiling)"
Gabriela: "I am very happy with my long hair. This is important to me, because I am a hairdresser. I got my degree in Venezuela, but it is not valid here, so I am still studying now. I hope to start a hair salon soon."
"I am really proud of my stomach. It is flat and muscular. My face is fine. And I am extremely proud of my legs: they are long and skinny."
Although Gabriela feels comfortable in her own body, there are still some spots that sometimes shake her confidence. "My nose, mouth, and eyes can handle it. However, I'm still insecure about my face, because I had acne as a teenager. Now that I'm a little older, it's improved. Although I still go to the dermatologist monthly For a facial treatment against scars and black dots.
"Good skin care is also a must. In the morning and evening, I cleanse my face, and I don't go out without sunscreen to protect my skin."
Thanks to my colored tattoos, I don't want to hide my scar, but I do want to show it

Gabriella
"I also have doubts sometimes about my arms and shoulders. I wish they were better and more feminine. In addition, I have a large scar on the side of my left arm. I got this from an accident in Venezuela – I was playing on the field with my friends and had a painful fall. In 2016, I camouflaged it with a colorful tattoo, by a tattoo artist in Colombia. Since then I've never felt the need to hide my scar. Now I want to show it off. (smiling)"
pass. Gabriella is totally on point during the beach shoot
"If I would change one thing about myself, it would be my breasts. As a teenager I dreamed of having breasts. At the age of 17 I started hormone therapy, which gave me a very small cup, and later I had surgery in Venezuela. My breasts are beautiful the way they are, but they hurt .especially when I'm sleeping or lying down."
"I want to go to a Belgian surgeon to replace my implants. There are probably better techniques and materials on the market now than there were eight years ago in Venezuela. But yeah, it costs a lot of money. I hope I'll have enough savings in a few months."
"To stay fit, I try to live a healthy life. I exercise for at least two hours every day – mainly my home fitness workouts and my own workouts." booty. It may be a little more massive. (He laughsMoreover, I do yoga twice a week."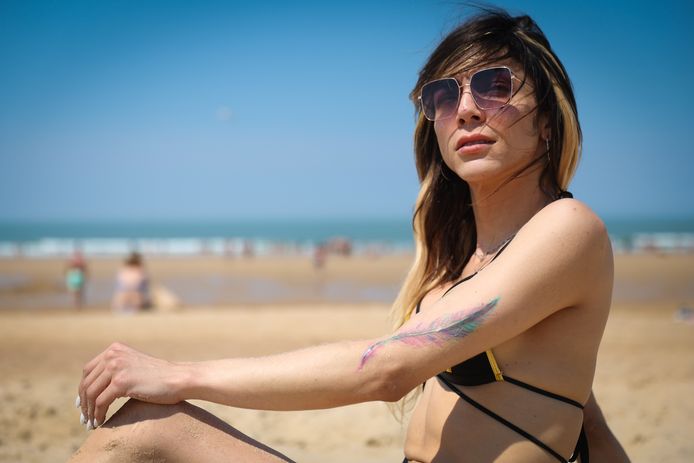 "My other hobbies are reading books and cooking. Nothing is more fun than trying Venezuelan, Colombian and Flemish cuisine. The only thing I don't like is the typical Belgian french fries. They are way too unhealthy. They need more. correct Hey, hey. For example, I don't drink soft drinks and avoid alcohol. My meals consist of a lot of vegetables, and I eat as little sugar as possible. The only thing I can't resist is the melted cheese. Fondue is delicious cheat meals."
In the summer series "My beachbody" NINA goes to the Belgian coast. We photographed men and women and talked to them about what they liked about themselves. Because M, V or X, big or small, size 34 or 54, it doesn't matter, because everyone deserves to be a bikini model.
Read also:
Elisa (21) proudly shows off her body on the beach: "My family thought I was 'fat' and 'ugly'. I wouldn't like it"
Laura (19 years old) about her body on the beach. "I hate it when I can't button my pants anymore."
Unlimited free access to Showbytes? Which can!
Log in or create an account and never miss a thing from the stars.

Yes, I want unlimited free access
"Friendly communicator. Music trailblazer. Internet maven. Twitter buff. Social mediaholic."