None of the seven Republican presidential candidates was able to win the second debate on Wednesday evening local time. The person still dominating the discussion is former President Donald Trump, who was not in attendance again. CNN concluded, "The winner in this chaotic debate is the absent Trump."
The seven candidates hoping to be chosen as the GOP's official presidential nominee are all trailing by dozens of percentage points in polls behind Trump, who also missed the first debate. This does not seem to have harmed his popularity.
Competitors are aiming at Trump
Wednesday evening's debate ended as it began, according to CNN, "with former President Donald Trump, who has not yet appeared on stage alongside his rivals, being described as the most likely candidate." The New York Times also concludes that the debate is unlikely to represent a breakthrough for Trump's rivals. His status as a favorite does not appear to be in jeopardy.
More than in the first debate, Trump's seven rivals targeted him, especially since he was not present. "He should be here on the stage," said Florida Gov. Ron DeSantis, who is seen as Trump's main challenger but trails him by more than 40 points in the polls. He did not speak during the discussion until fifteen minutes later. The governor said Trump "laid the groundwork for subsequent inflation in the era of high spending," but was generally unconvincing.
"Trump is afraid"
"Donald, I know you're watching," said former New Jersey Governor Chris Christie, pointing his finger at the camera. He stressed: "You are not here tonight, not because of the ballot boxes, and not because of the accusations directed against you, but because you are afraid." Christie portrayed Trump as a coward for skipping the debates. He also accused the former president of dividing the country, concluding that "Trump should be voted off the island." Christie also tried to introduce a new nickname for his rival: "We can call you Donald Duck," a reference to the English word for "duck."
The only person to defend Trump is businessman Vivek Ramaswamy, a political outsider who made a good impression in the first debate. He expressed his belief that Trump's legacy should be built on. Finally, all candidates promised to reduce immigration. Most of them were in favor of continued support for Ukraine. The media continues to describe the Republican debate as "hostile and noisy."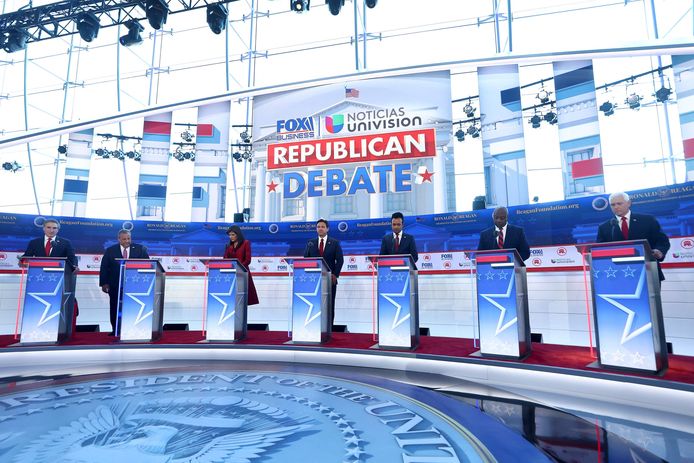 Trump in the swing state of Michigan
Instead of the debate, the absent Trump decided to head to Michigan, an important swing state. The Republican strongly criticized the environmental policy of his successor, who promises to re-industrialize the former stronghold of the automobile industry by developing electric cars. "Joe Biden claims to be the most union-friendly president in history. "This is ridiculous," Trump said.
While his seven Republican rivals were debating in California, Trump visited an auto factory in Detroit. Trump said that Biden, by focusing on electric cars, is killing the American auto industry. "You can be loyal to business, or you can be loyal to the environment," he told a group of several hundred invited workers.
In Detroit and in Missouri and Ohio, the UAW union went on strike to demand higher wages and better working conditions. Trump's fans in Detroit were not union members. Biden visited the strikers on Tuesday to encourage them.
He immediately responded to Trump's attack and said that focusing on electric cars would mean the end of the auto industry in the United States is a lie. According to Biden, Trump is responsible for China, the largest producer of electric cars, winning the race.
"frequent"
Trump later said in an interview with Fox News that he believed it was unnecessary to attend the Republican debate. He pointed out that he is miles ahead of his Republican competitors in opinion polls. The former president also responded directly to Christie's portrayal of him as "Donald Duck." "The creator of this nickname should not run for president."
Trump is ahead of US President Biden in the latest opinion poll before the elections
"Republicans used to support Trump out of fear for their seats. "Now because of fear for their lives": Mitt Romney paints a bleak picture of American politics (+)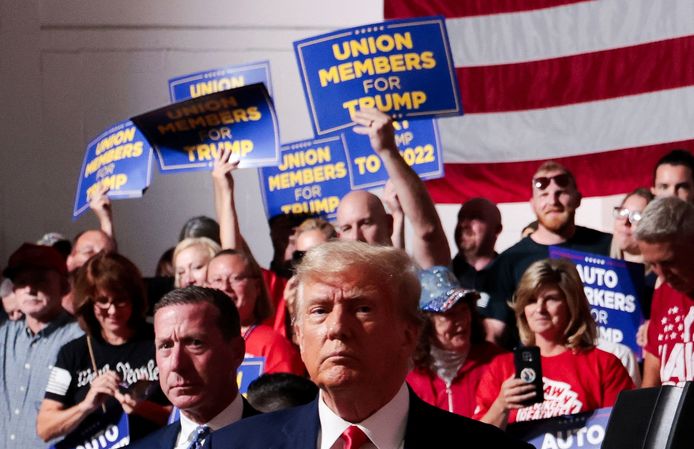 Free unlimited access to Showbytes? Which can!
Log in or create an account and never miss a thing from the stars.

Yes, I want free unlimited access
"Total coffee specialist. Hardcore reader. Incurable music scholar. Web guru. Freelance troublemaker. Problem solver. Travel trailblazer."